Music Intent
At Southroyd Primary School, our music curriculum intends to inspire creativity, self-expression and a life-long love of music in all our pupils. Children should gain a firm understanding of what music is, through singing, listening, performing, composing and evaluating while being exposed to a wide variety of genres of music. We intend that all children should gain a curiosity and enthusiasm for the subject and a respect for all types of music.
As children move through school they will begin to explore, engage and then express themselves through music. In this way they will develop skills that will inspire them to think critically and creatively, not just in the classroom, but across all aspects of their life.
By listening and responding to different musical styles, finding their voices as singers and performers and as composers, all will enable them to become confident, reflective musicians.
We also intend that our children become incrementally better at playing musical instruments and singing as they progress through school - building on skills which will help them at secondary school and in later life, if they are inspired to specialise in music.
'Music is a universal language that embodies one of the highest forms of creativity' (The National Curriculum)
As a school, and in accordance with the National Curriculum's expectations, we aim to ensure that all pupils:
should perform, listen to, review and evaluate music.

be taught to sing, and play a range of instruments, using different forms of notation.

Be taught to create and compose music.

explore how music is created, produced and communicated.
Skills
The aims of our Music curriculum are to develop pupils who:
Can sing and use their voices individually and in a group
Create and compose music on their own and with others
Use technology appropriately when composing
Have opportunities to learn a musical instrument
Understand and explore how music is created, produced and communicated
Listen to, review and evaluate the work of great composers and musicians from a range of historical periods, genres, styles and traditions
Enjoy and have an appreciation of a range of different musical styles
Use and understand musical language and include musical features in their own work
Make judgements about the quality of music
Have opportunities to play a wide variety of instruments
Have different opportunities to take part in performances
Year 5 presented KS2 assembly along with invited parents to perform their ukulele songs, which they had worked on during the year - March 2017.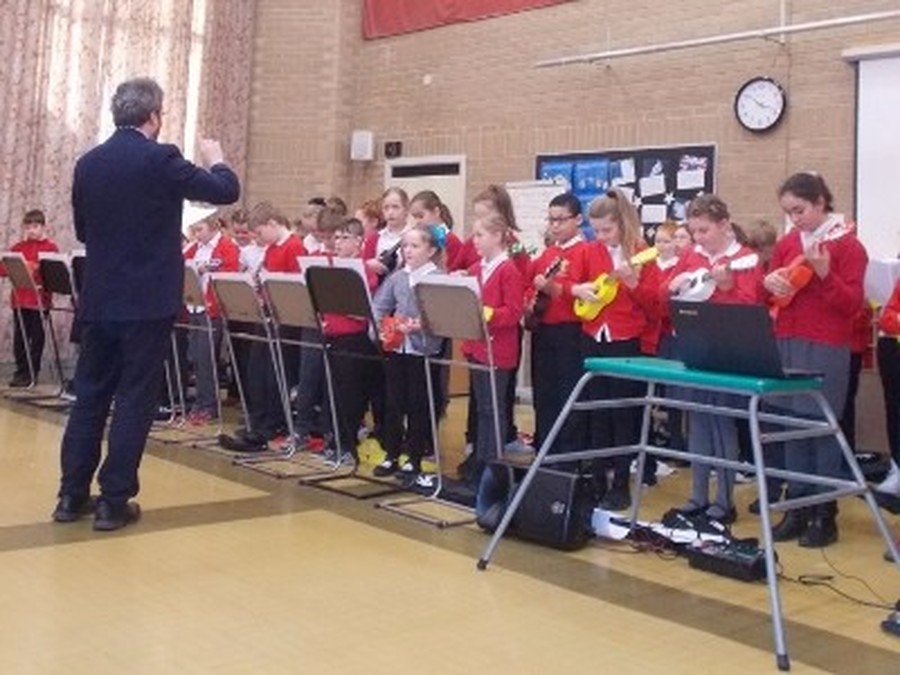 Music Implementation
At Southroyd, music is taught (and thus assessed) on the three key strands of 'listening and responding', 'performing' and 'composing'. The music curriculum ensures students sing, listen, play, perform and evaluate music. This is embedded in classroom activities as well as the learning of instruments, preparation and performances (in school and in church) at Harvest, Christmas and Easter and the joining of musical ensembles. The elements of music are taught in classroom lessons so that children are able to use the language of music to discuss it, and understand how it is made, played, appreciated and analysed. In the classroom students learn how to play various un-tuned and tuned percussion instruments and as a class in Year 5, the ukulele. In doing so they understand the different principles of creating notes, as well as how to devise and read their own musical scores and basic music notation. They also learn how to compose focussing on different dimensions of music, which in turn feeds their understanding when listening, playing, or analysing music. Composing or performing using body percussion, vocal sounds and technology is also part of the curriculum, which develops the understanding of musical elements without the added complexity of an instrument.
The music curriculum is very much on a progressive spiral, so children will continue to revisit key skills both during an academic year and as they move through the key stage. This allows them to continually develop as musicians, through a deeper understanding of rhythm and pitch, reading music notation, listening skills, composition and performing using instruments and voices.
At Southroyd, music is embedded in and threaded through the curriculum, rather than being taught using schemes.
Music in the curriculum at Southroyd is supported and enhanced by visits to singing events and participation in extra-curricular activities such as Samba drumming (organised by Artforms), visits by professional musicians and songwriters and school clubs such as Choir and two Ukulele clubs.
The Little Sing at Pudsey Civic Hall in April 2022
The KS2 choir took part in a concert at Priesthorpe during the Christmas period, learning and performing 7 songs from Christmas around the world.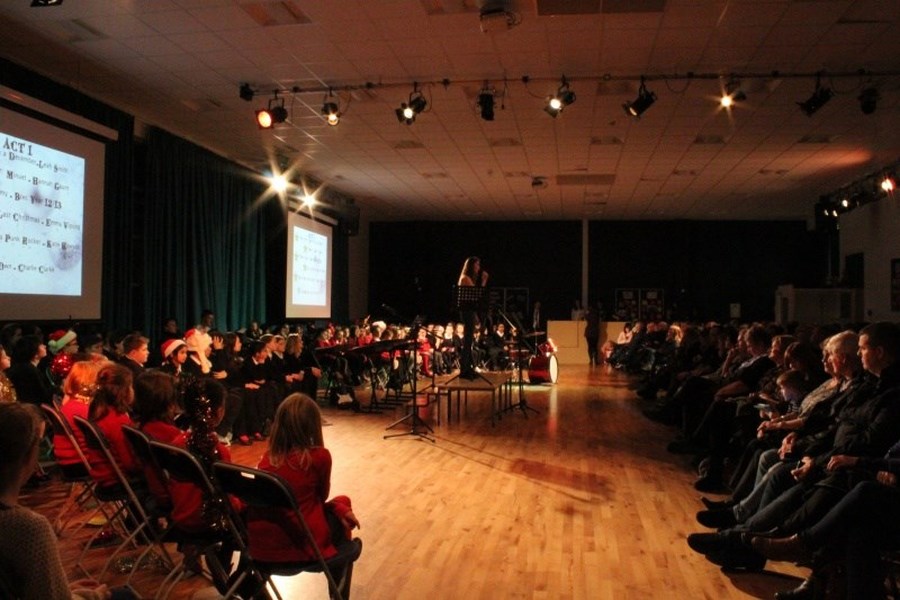 Music Impact
Whilst in school, children have opportunities to become a musician in their own right (through listening and responding, performing and composing), allowing them to discover areas of strength, as well as areas they might like to improve upon. The integral nature of music creates an enormously rich palette from which a child may access fundamental abilities such as: achievement, self-confidence, interaction with and awareness of others, and self-reflection. Music will also develop an understanding of culture and history, both in relation to students individually, as well as ethnicities from across the world. Children are able to enjoy music, in as many ways as they choose - either as listener, creator or performer. They can discuss music and comprehend its parts, using the technical language of music. They can sing, feel a pulse, add rhythms and create melodies in a group and they can further develop these skills in the future and continue to enjoy and embrace music in their lives.
Further Impact
Since September 2022, Year 5 and 6 Choir have reached out to the community by singing Christmas Carols in public at ASDA (while doing fund-raising for FOSS). They have also performed Christmas songs at Pudsey Marketplace for the Christmas lights switch-on event. As well as this, the Choir also made an important contribution to the brilliant Southroyd Christmas performance.
Currently the Choir are working on a specially-written song for Leeds 2023, and their contribution will be filmed and sent off for inclusion in a special film very soon.
In 2022/23 the Year 6 Ukulele Club is the biggest it's ever been and is going from strength to strength. The club have been learning more challenging chords and improving their reading of tablature (special musical notation for ukuleles). This progression from Year 5 curriculum ukulele has been very pleasing indeed. Currently Ukulele Club are learning uke parts for the specially-written song for Leeds 2023 (their contribution will be filmed alongside Choir).
Children in Y2-Y6 learn the recorder and perform at a variety of venues, including playing at a local Old People's Home.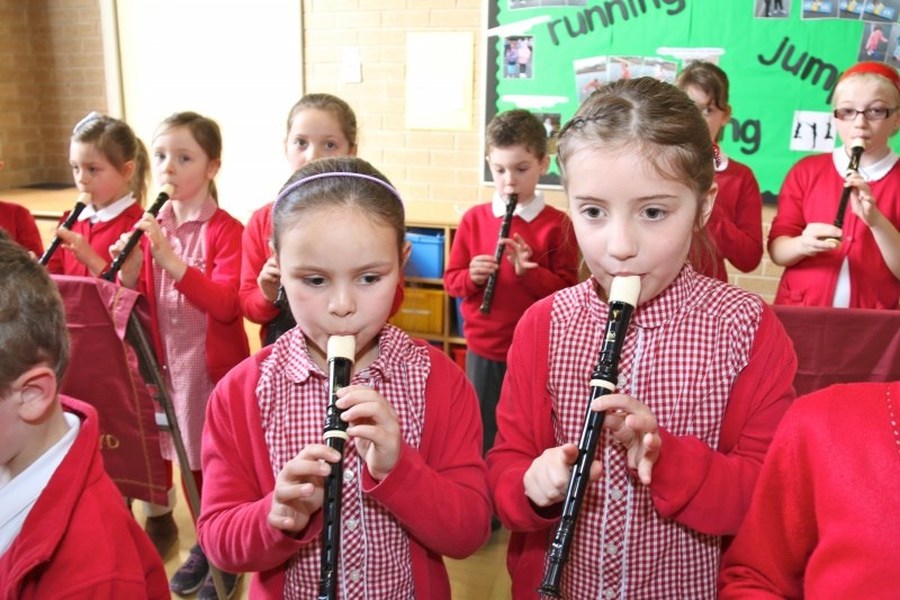 The whole class have the opportunity to learn recorder from Y2. This is then developed my many into playing the fife, clarinet or trumpet.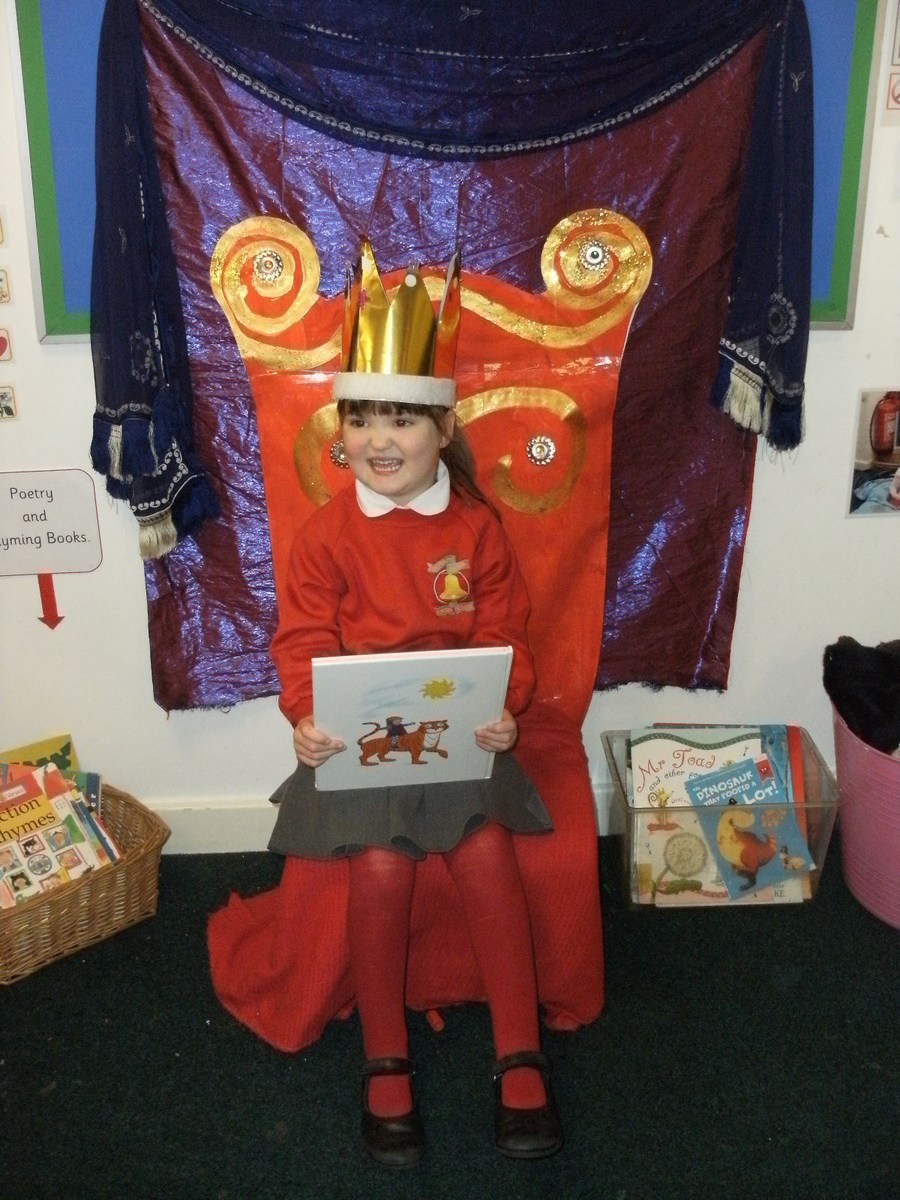 Children in Nursery took part in the National Poetry Day. Here children sat on the reading throne and enjoyed their favourite poems.
Its Carnival Time for Year 2! In July 2018, the children designed and made their own head-dresses and took part in a carnival, as part of their topic work.