This year Miss Prior, Mrs Walsh, Elyot and Mr Cheeseman will be travelling to India to spend a week at our partner school, Bachpan. You can follow their week on this web page. You can ask any questions to bachpan@pudseysouthroyd.leeds.sch.uk
Friday 13th February 2015
Our day started very early with us all meeting up at Miss Prior's house around 4:15am! Elyot & Yvie were feeling a little poorly due to nerves, excitement and tiredness, but as soon as we got on our way, they were fine. We drove to Manchester airport where we arrived in plenty of time to check in easily, have breakfast in Frankie & Benny's before we took off on our first flight at 7:55am to Doha. The flight to Doha was good and very relaxing with plenty of inflight movies to keep us entertained. After 8 hours, we arrived at Doha airport where we needed to stop over for around 2 ½ hours. Doha airport was amazing – so much space! All of the shops were designer boutiques and they even had a mini Harrods! (No toy shops though – sorry Yvie & Elyot). We found an amazing & beautifully designed children's play area where Elyot & Yvie were able to relax for a while before we caught our next flight. On the 2nd part of our journey, we caught a flight from Doha to Ahmedabad where we arrived at local time 1:45am. There was a lot of form filling to do while we waited at customs but when we got through Sanjay and Meena were waiting outside to greet us. We exchanged hugs and had a quick photo together. Sanjay & Meena took us to their apartment in Ahmedabad for the night where we will stay until Sunday teatime. Then we will head to Surendagar. On our car journey we passed a holy river, lots of shops, a statue of Gandhi and lots of stray dogs! The apartment was only about 30 minutes drive away from the airport, which meant we could get there quickly and relax. Meena made us all a nice drink, followed by tea and snacks. We sat up talking for a while, before retiring to bed for some much needed sleep. Good night all.
Saturday 14th February 2014- Happy Valentine's Day everyone!
Today we walked around the complex where Sanjay and Meena have an apartment in Ahmedabad. We saw stray dogs and some very big cows ambling along the roads. We saw the people building the new apartment blocks – the ladies get the cement out of the mixer, put it in a big bowl and then balance it on their heads to carry it to the men who are laying the bricks. It looks like a very slow and hot process in 32 degrees heat! Elyot and Yvie played in the park where some other children were having fun too. We walked to a local aeroplane themed restaurant - it was very clever. They had fake windows with camera footage of planes landing and travelling in them so you felt like you were in a real plane. The restaurant had red heart balloons everywhere to celebrate Valentine's Day, just like we do. Elyot and Yvie got one each .In Gujarat they like to have raw onion with salt and lemon before and with their meal. The grown-ups liked it but Elyot and Yvie went straight for the poppadums. We had 3 delicious dishes – a creamy cashew nut curry, a spinach curry and a tomato paneer. In Gujarat 90% of people are vegetarian. Elyot's favourite was the creamy , white cashew nut , called ' Kaju khoya curry'. Elyot tried everything – what a star! Yvie just ate roti really!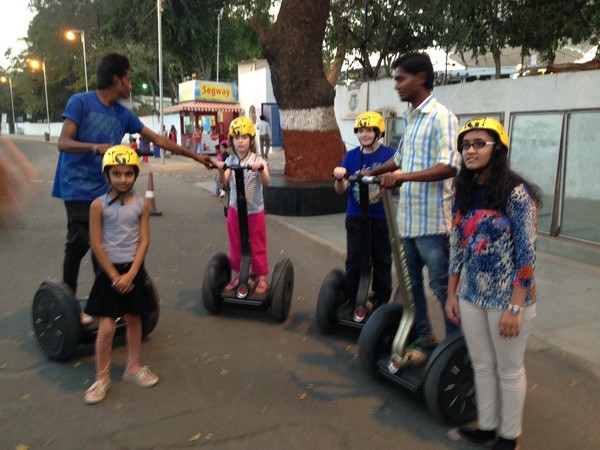 Saturday February 14th 2015 - Part 2
We have taken part in whacky races! Driving through Amhmedebad at rush hour was quite an experience! We saw more people piled on one scooter than were in our car! There was a constant sound of car and bike horns and without traffic lights the only way to drive across the junctions was for Sanjay to push out into the traffic , honking loudly and hoping everyone either stopped or swerved us – which they did( just). Through all this chaos people were trying to sell us all manner of weird items through our car window – Yvie was tempted by a tray of mini toy nodding dogs.
What a fabulous evening we have had! Some of our teacher and student friends came to spend the weekend with us. We joined thousands of other Indian families at the 'fun park!.' It was great to join in with what other families do here. The whole park was built around a huge lake , so we started the evening off with a speedboat ride around it. Mrs Walsh thought she was going to fall out the boat because it was so fast and kept tipping sideways. Elyot and Yvie were very brave and joined in with a sedgeway safari and a tree top walk with Devanshi and Ankita. This was tougher than it looked and Yvie said, it was the scariest thing ever. This is what scared us all (Yvie was afraid of the tall height there). We were nervous watching them. We finished the trip with a lovely train ride around the whole lake before heading off to find some dinner.
We had dinner in a Pizza restaurant called 'Sam's Pizza' . It is very popular and there was a big queue to get in. It was just like Pizza Hut at home – although the salad bar was AMAZING compared to what we are used to. Lots of lovely coconut and peanut salads.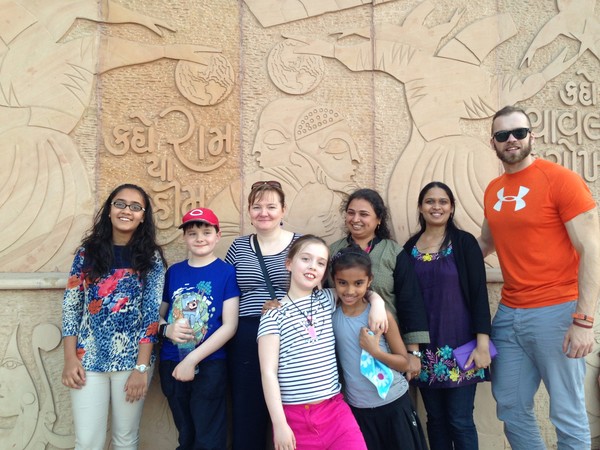 Sunday – Day 3
Today we all went outside the apartment and went to the park, where we played cricket and badminton. Then, Sanjay & Meena took us on quite a long journey through the city, to an ancient World Heritage site. It was a well built around 450 years ago by the wife of a famous king. The intricate carvings were amazing, almost like lace. We posed for many a photograph! At the bottom was a very deep well. When we came back up to the surface again, we got to experience an extraordinary banyan tree, whose main tree trunk was hard to spot for all the roots reaching down to the ground. It made an excellent climbing activity. Afterwards we were taken for lunch at a nice restaurant where we got to eat dosas and masala curry, accompanied by many different chutneys. It was delicious.
We then had the 2 and ½ hour long drive to Surendagar from Ahmedabad which we took in 3 cars. When we got to Sanjay & Meena's house we had a candlelit buffet tea, made by Chatali's mum, outside on the balcony. Lots of friends and students came to join us or to drop by and visit.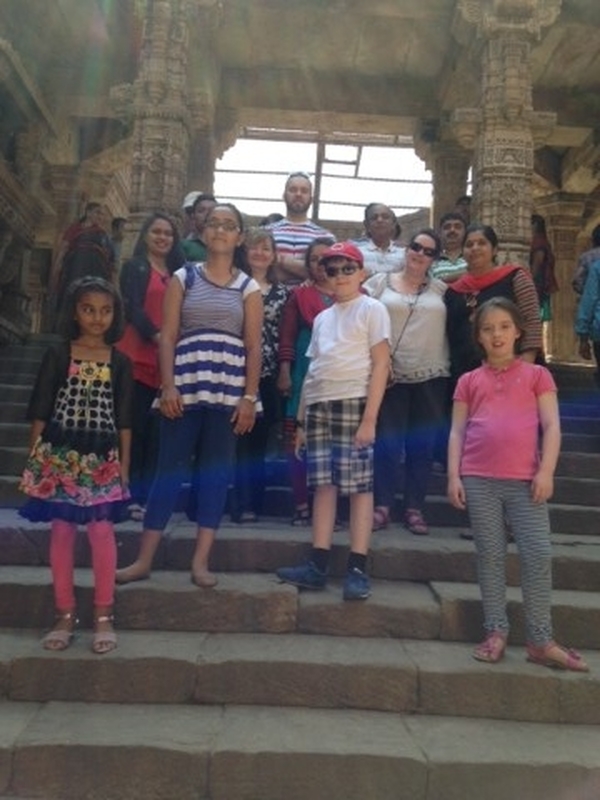 Monday – Day 4
Today we got to meet all of the Bachpan students at school. As we arrived at around 7:30am, we were greeted with the children outside the school and on the balcony all cheering & throwing rose petals. We were each given a bindi, a garland of flowers and a chocolate treat. The whole school has been decorated to look like an English garden, especially for our arrival, with child-made flowers all around the walls. It was so pretty. We then had our welcome assembly (part 1), where we were treated to a 'fairy-themed' show by the children, who performed songs (Peace is flowing like a river), speeches and dancing. We then went on a tour of the school, getting to see all of the children, who were very excited to meet us. So many gave us chocolates, flowers and really beautify cards that they filled 6 carrier bags! It was interesting to see that some of the KS2 classes have been learning about the romans as well as the Egyptians, just like at Southroyd. One boy has made his own 3D model of a pyramid for us to keep, as part of his learning log-type homework.
Next Miss Prior, Mrs Walsh, Yvie and Elyot did a lesson on the Chinese new year story with 65 year 7 children. The Bachpan students held up the animal masks and helped act out the story as Miss Prior read them the story. As the boys and girls always sit apart in Bachpan, we had some fun making sure we mixed them all up using games. They then had to work out which year they were born and which animal of the Chinese zodiac they belonged to – just like you have been doing from the posters around school. We then helped each group sequence and perform the story themselves – a teaching technique that was new to our friends. The children then enjoyed looking at year 2's red envelope fact files and they each got to make a bookmark of their zodiac animal to take home.
Meanwhile, Mr Cheeseman brought the race across the river to life for the children. He worked with a group of year 6 students outside, doing problem solving team games to cross an imaginary river in small groups using hoops. They all had great fun
We then had a welcome assembly (part 2) with the afternoon children. In Bachpan the school has 2 'shifts' so some children come for the morning, some for the afternoon and the eldest ones stay all day. During this assembly the youngest children shared lovely dancing and a magic show with us.
In the afternoon we visited all of the younger classes - years 1 and 2. After a long day we made our way back home and had a rest. In the evening we were treated to a wonderful meal at a local hotel called Hotel Shiv, where we enjoyed a number of curries and a sizzling dish.Later that night Yvie and Elyot put on a show for the adults on the balcony, which involved ice-cream, a quizz, dancing and thank you speeches. By this time it was 11:30pm and we all retired to bed for some much needed rest.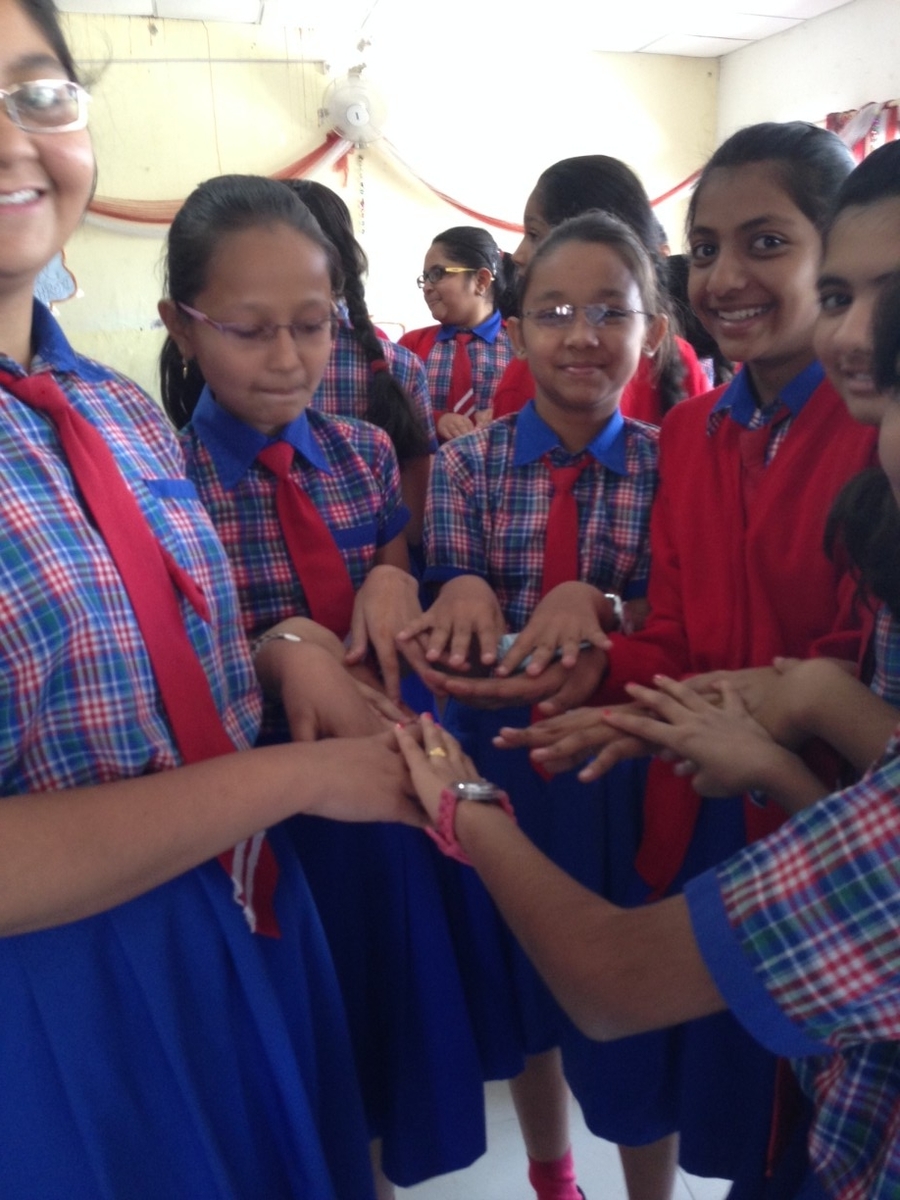 Day 6 (Part 2) - The Gurba!
Chaitali came round to dress us in traditional outfits.The girls all had colourful skirts, fitted tops and scarves with clunky silver jewellery. Everything is designed to sway and swirl as you dance. Mr Cheeseman and Sanjay looked very important in their shirts and scarves.Elyot was dressed like many of the Bachpan boys – in a suit of colours, bobbles, mirrors and hand sewn animals. He had birds on his shoulders and an elephant on his hat! The children had decorated the new playing field so that it became our Gurba dance floor. It was very special - our way was marked with posts, flowers and beautiful rangoli patterns and candles. Before we started we took part in a ceremony to be thankful for and bless the Gurba. We held a puga plate decorated with flowers and candles and made circular movements with it in front of a picture of Aarti whilst everyone sang. It was really special. Then the teachers performed a fantastic demonstration gurba dance for us all – breath-taking! At last it was our turn – Sanjay says Mr Cheeseman is the quickest learner he has seen and we all did really well to join in and follow the dances. It was great fun- and as it was shorter than usual which meant we weren't quite so exhausted at the end of the night! We finished the evening with dinner and ice cram at Chitra's house and finally crawled into bed about midnight.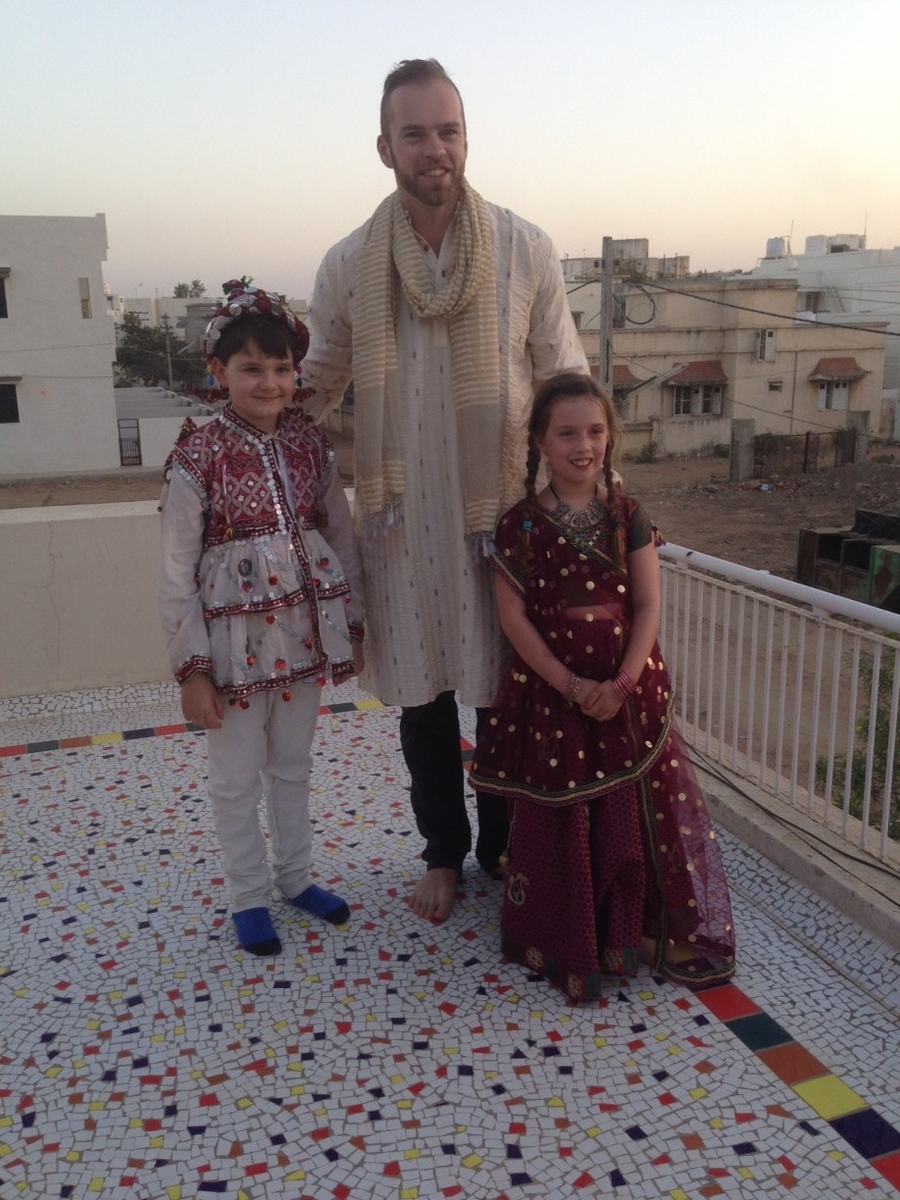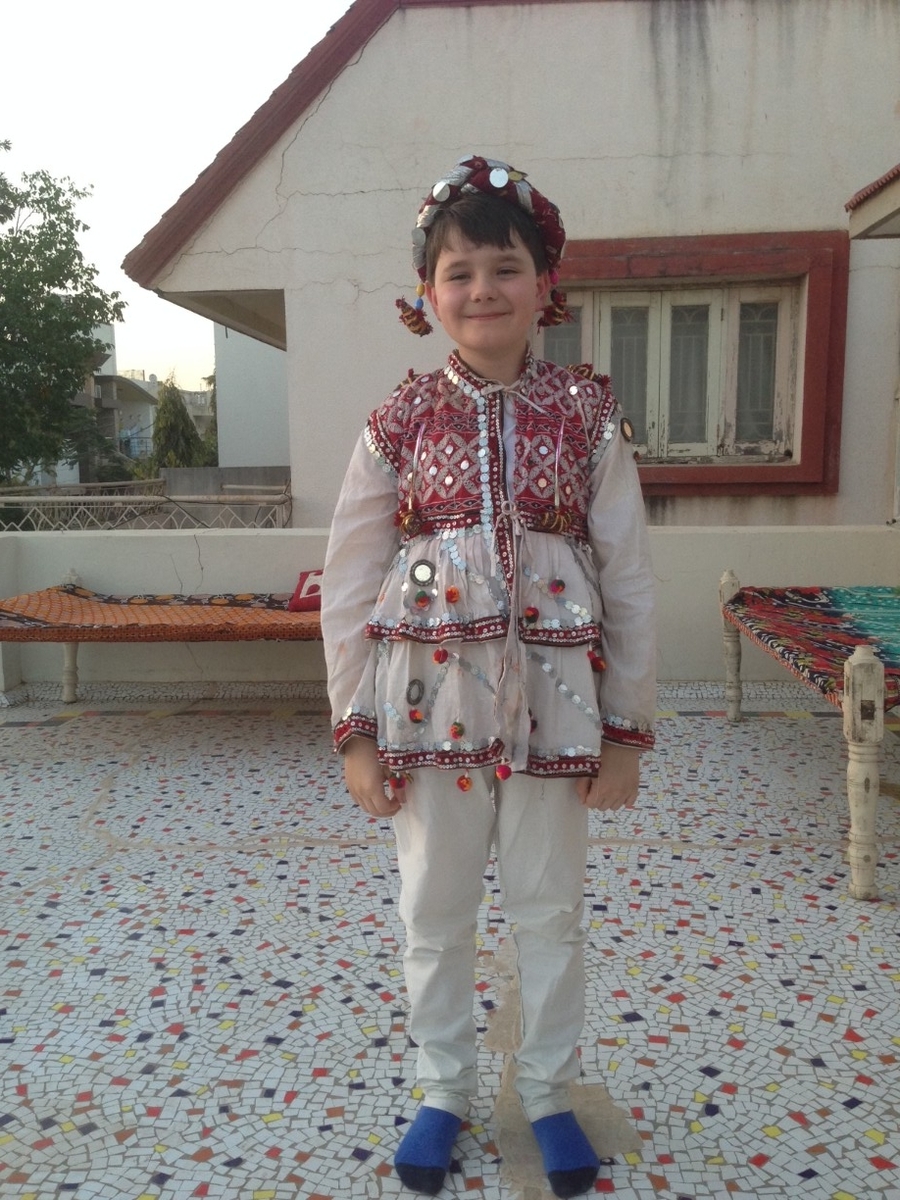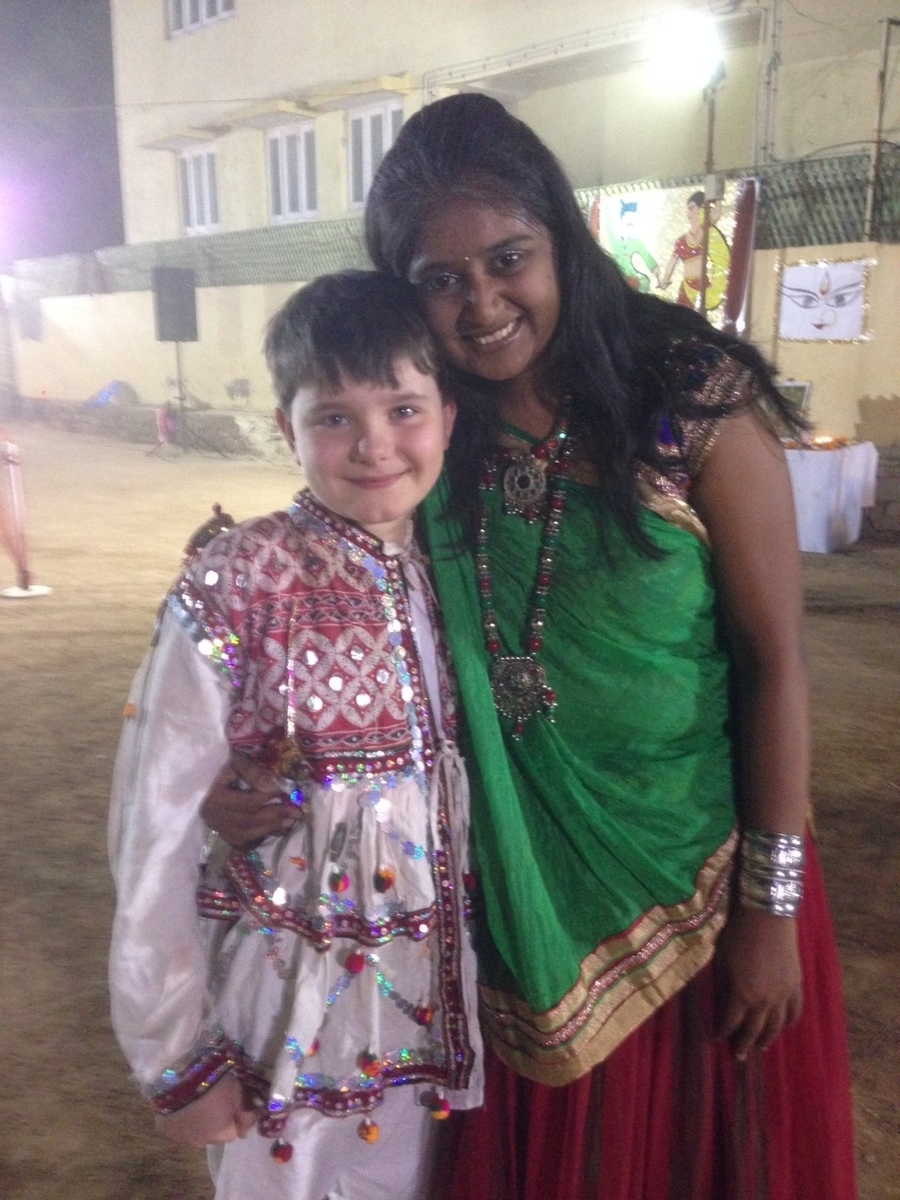 Day 7 - Thursday
We celebrated Chinese New Year with Bachpan today. The hall was decorated with the presents given by year 3 and Miss Syan's year 1 class. The children did a fabulous dragon dance accompanied by our own Chinese 'stomp' band – basically we played pots,bins,plates, pans, spoons and home made shakers! The children had learned about music notation and using semibreves, crotchets and minims we had constructed an amazing rhythm piece. It was fantastic. Year 9 shared their beautiful Dragon poetry. It was a really memorable experience!
We also saw some traditional games being played today - '7 stones' and 'Lungady' .In the lungady game the children had to hop and play catch with children who were running normally. We couldn't believe they would manage it – but they did!Elyot , Yivie and Mr Cheeseman played 7 stones - they found it really hard to 'bowl' a ball at the 7 stones and knock them over. Then once the stones are knocked over its basically a race to build them up again before the opposition hit you with a high powered tennis ball – ouch!
After school we visited a pupil's farm. We saw aubergines, tomatoes, pomegranates, coriander, carrots, coconuts, peas,cabbages, bamboo and sugar cane growing. We tore the skin off the sugar cane and sucked the juice out – delicious. A huge flock of geese flew over in formation – we could see them waving and working together as a team before they landed in the field – an incredible sight! They then gave us another display, showing how they all get into their lines, to set off again on their journey. We played 'stand up coco' till we couldn't run anymore and then had some samosas and much needed coke. After board games at Sanjay's house, dinner and chatting till late with Romany, an old teacher and friend of Southroyd who is visiting from Australia, we finally went to bed – again nearly midnight! The days are very full of activity – but we love it!
We cannot believe that tomorrow is our last day at Bachpan – we are so sad to be nearing the end of our visit. Lots of packing to do!!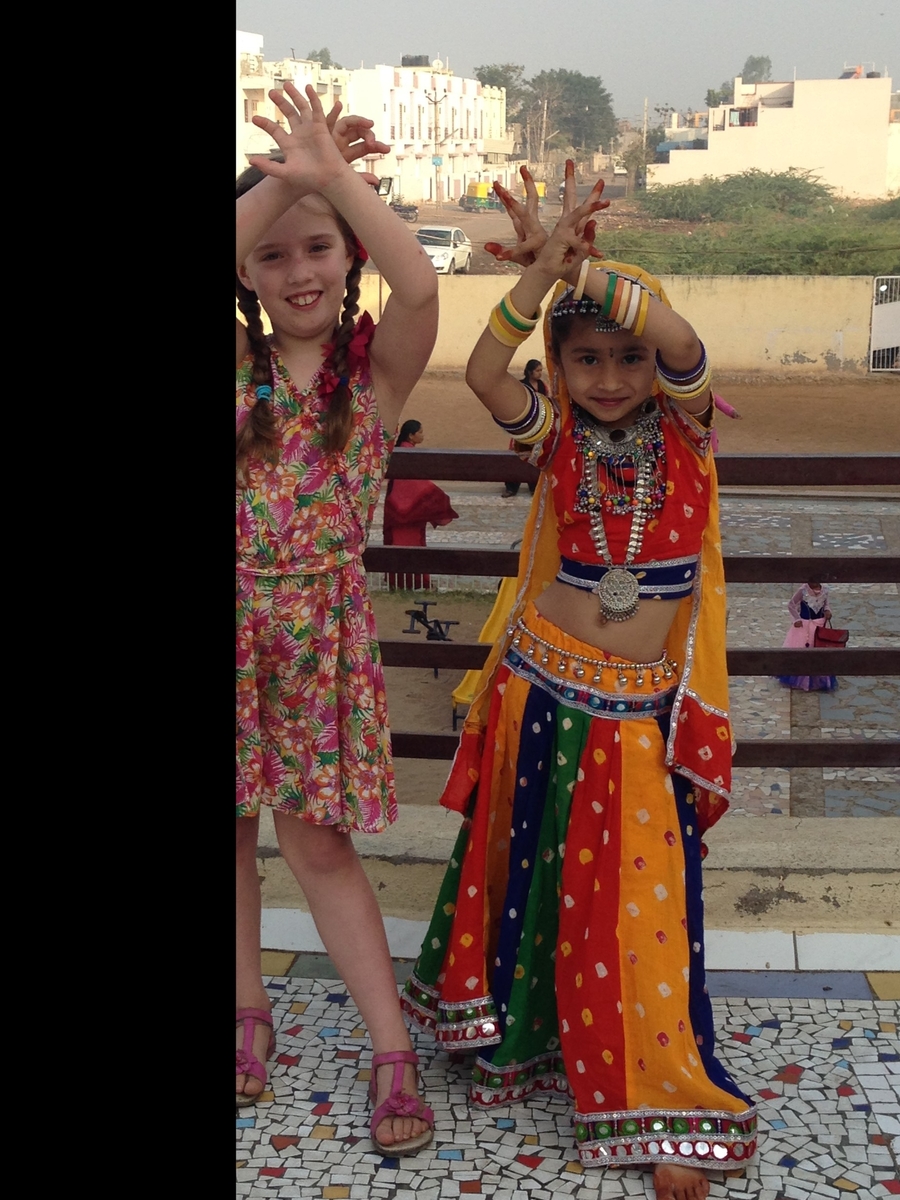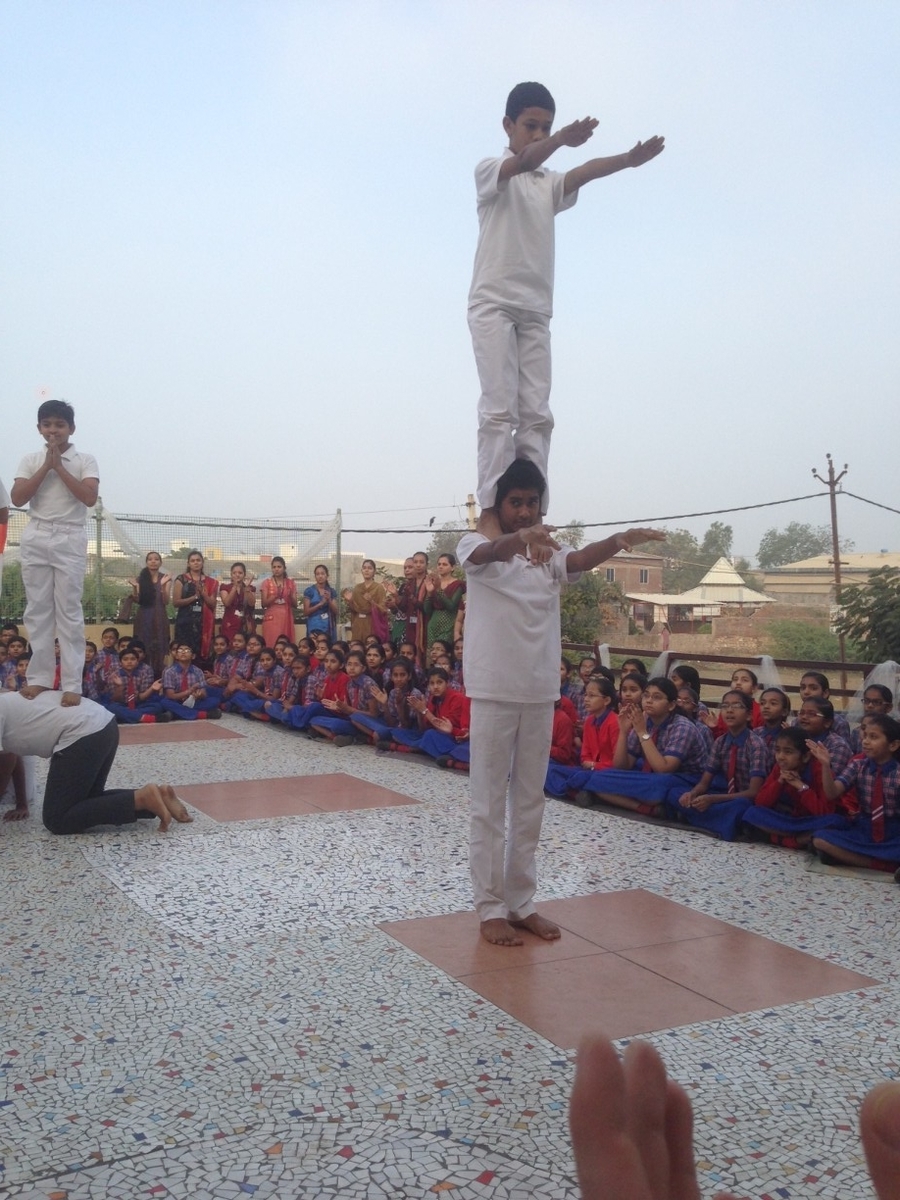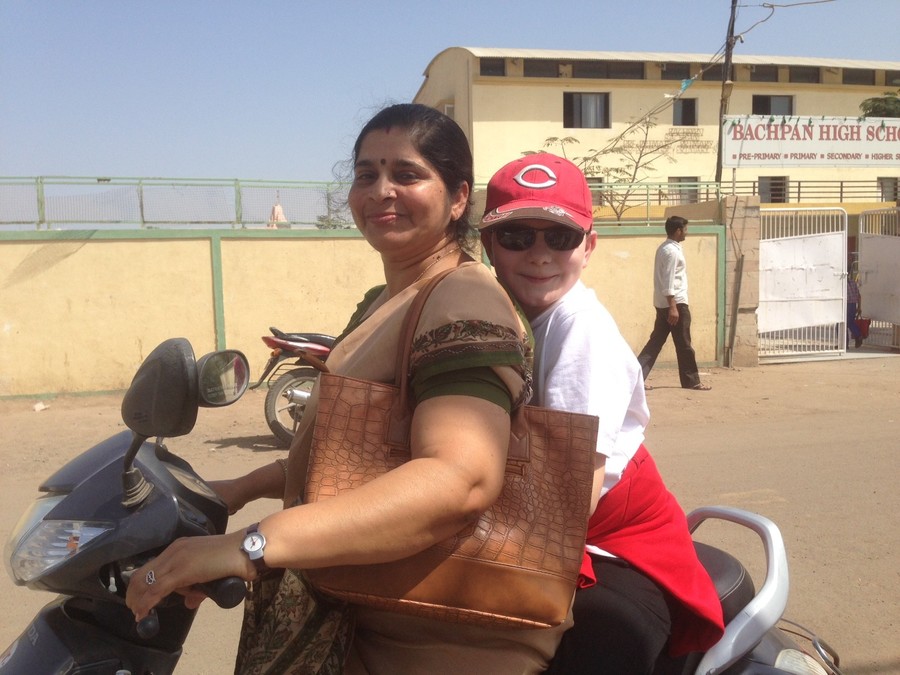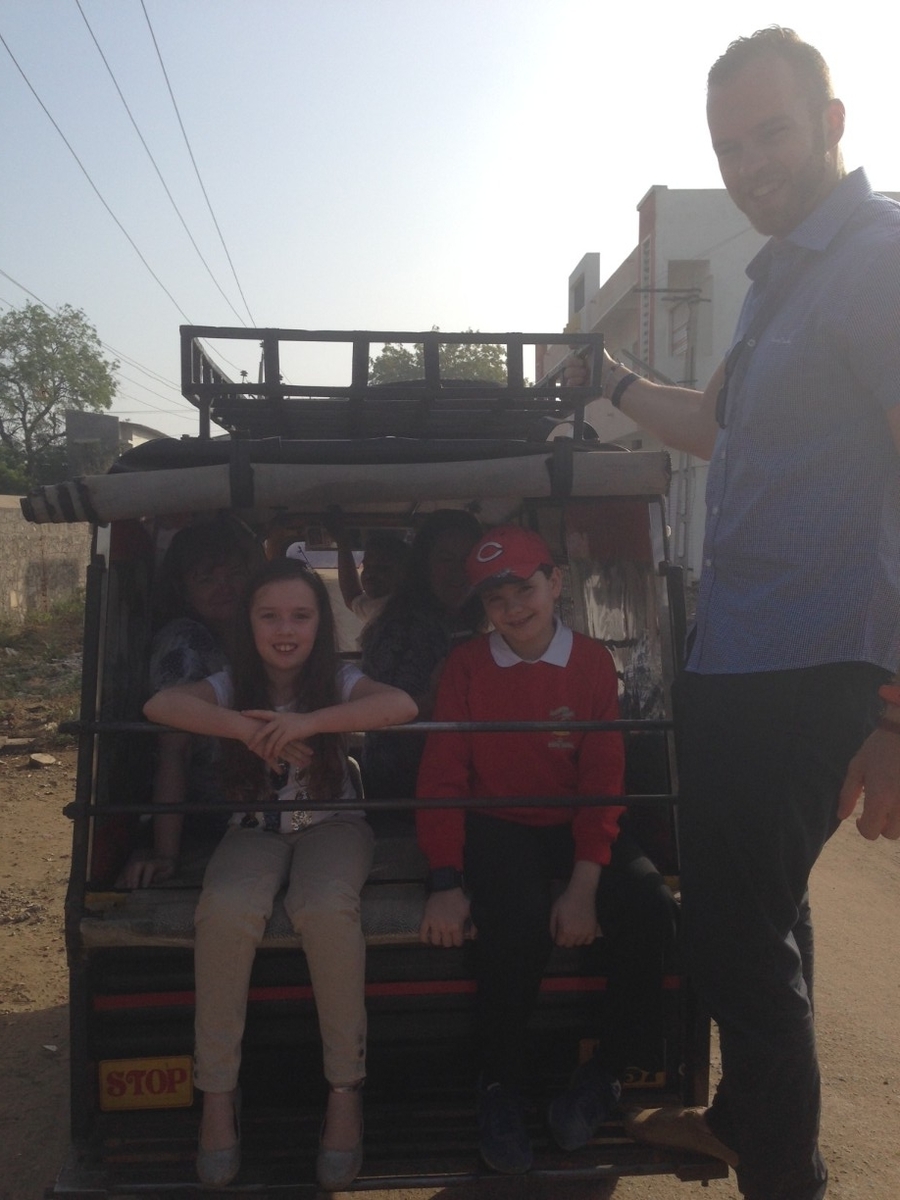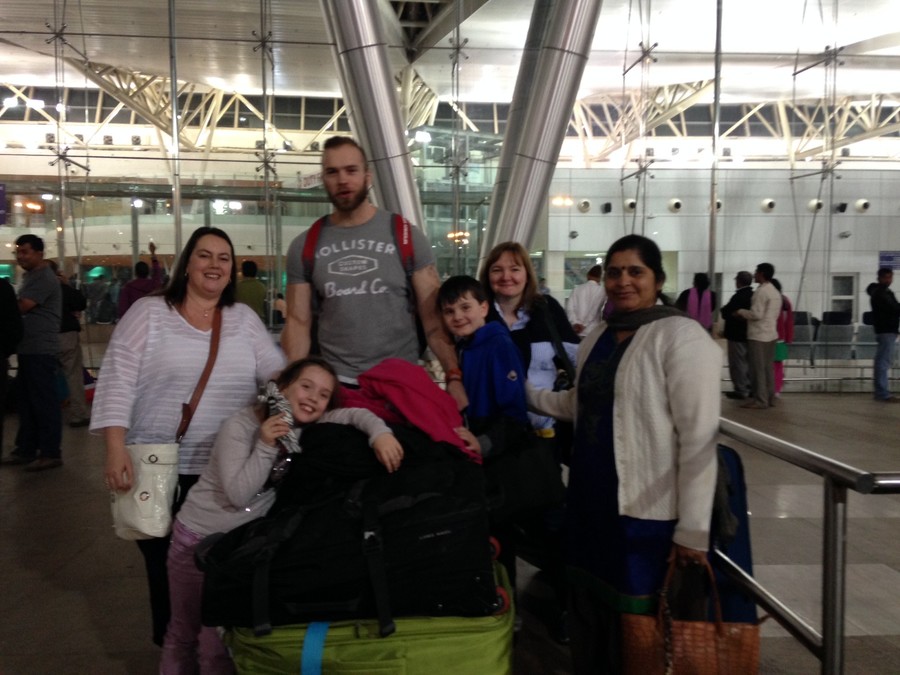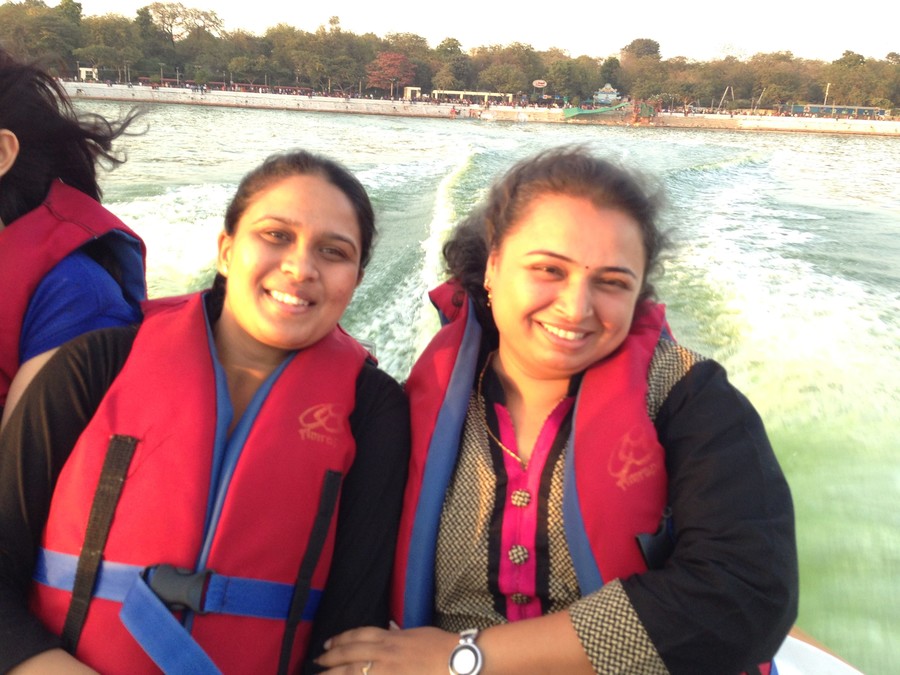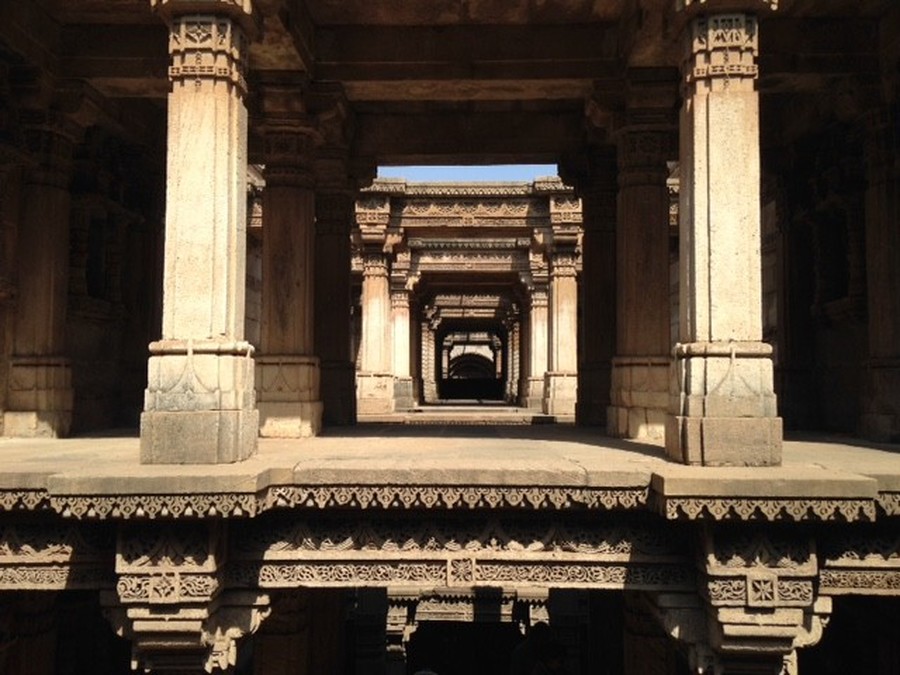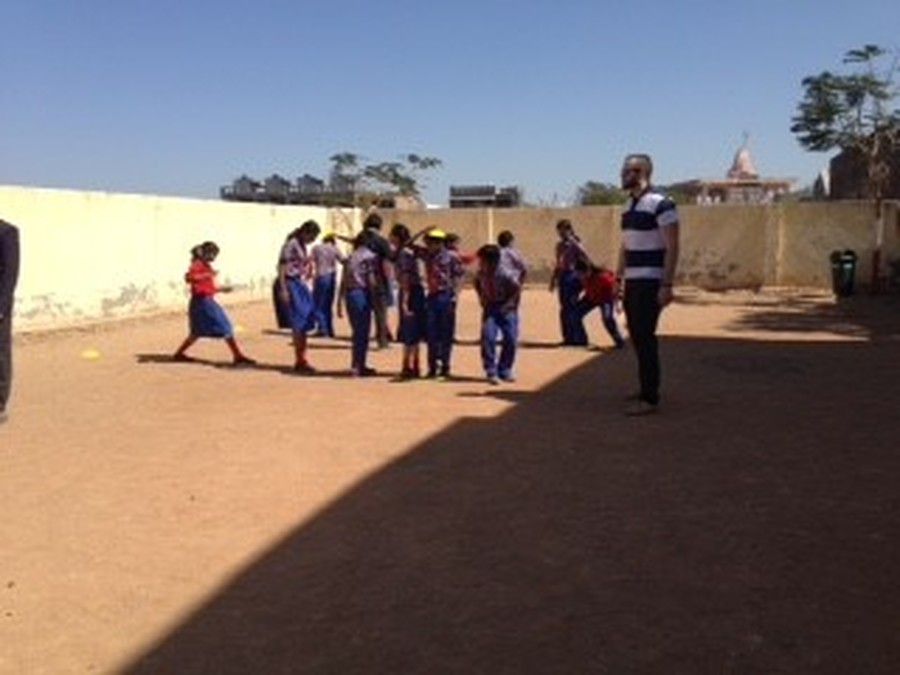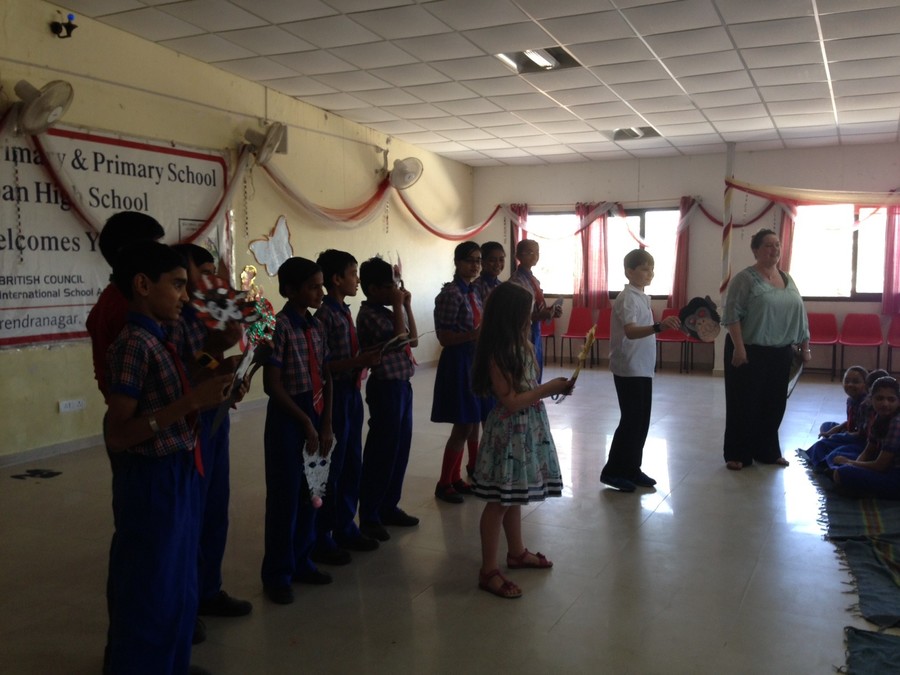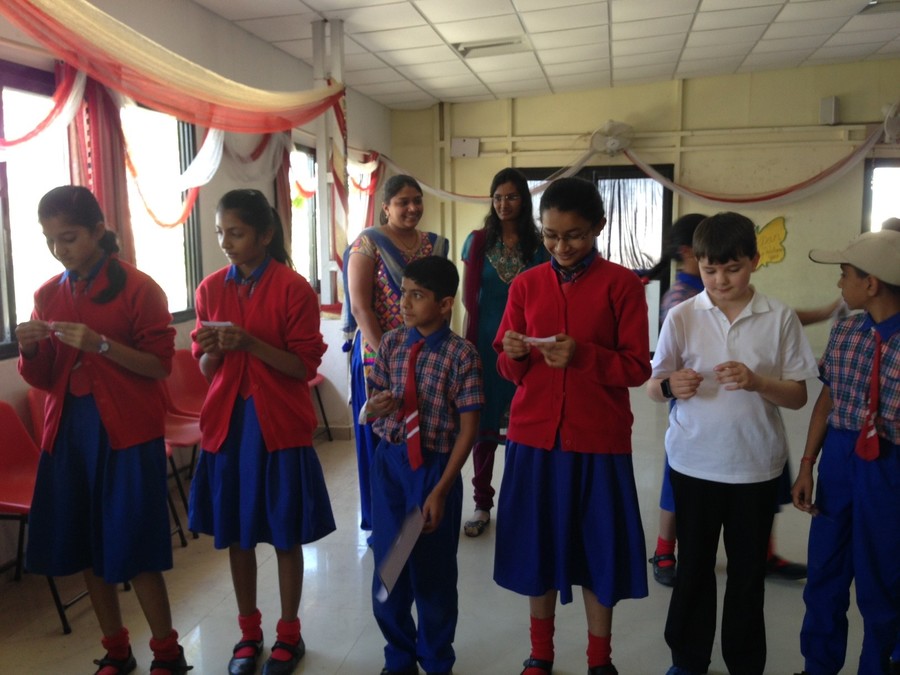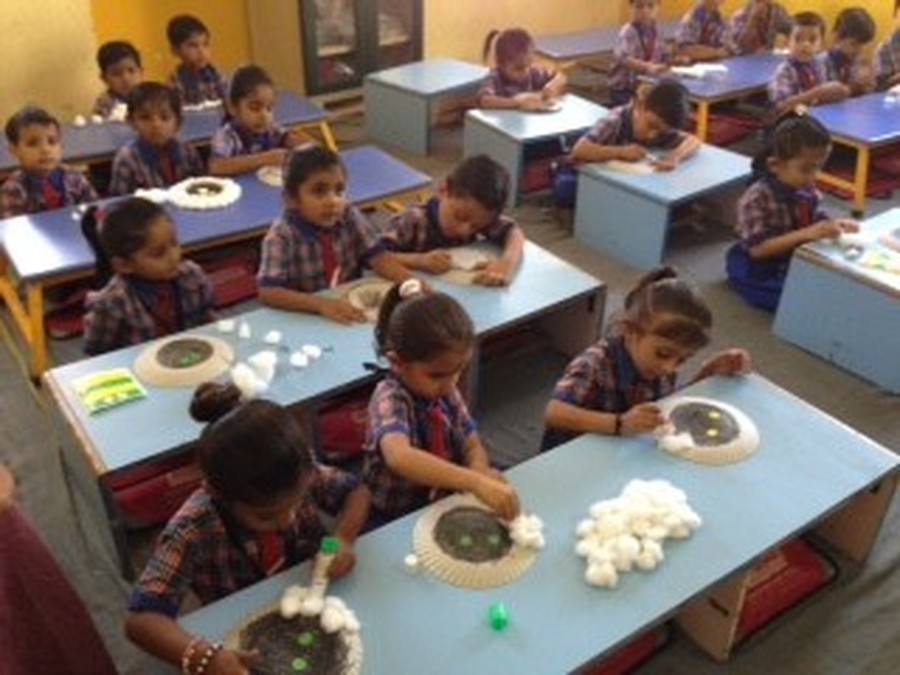 Tuesday – Day 5
Today Miss Prior, Mr Cheeseman and Mrs Walsh introduced the Chinese new year to year 5 by showing them a short video clip of a Chinese dragon dance. We then set up a workshop in the hall where the children got to decorate dragon heads (made out of large cardboard boxes), decorate the dragon's tail & also make Chinese lanterns and fans. The children were not used to working on such a large scale with paint and collage and we made quite a mess – but they had lots of fun! Some of the children made fans and lanterns all decorated with Chinese symbols and nature pictures.
Afterwards we shared with class three a selection of traditional songs and rhymes from England. We had brought a pack of English nursery rhyme story books with us as a gift for the children. The children loved learning, singing and doing actions for songs such as 'If you're happy & you know it', 'Old McDonald', 'The Wheels on the bus' and the 'Hokey Kokey', amongst others.
After school we visited Khushbu's house for lunch. Her family had all worked together to make us a feast which was delicious. They had specially made some chips for Elyot and Yvie who devoured them gratefully!
We visited the shops and bought traditional clothes, scarves and bangles. It was interesting to see all the traditional items on sale. Surendragar is famous for tie dye cloth and we saw some lovely clothes made from this. Some men stopped Mr Cheeseman in the street to talk to him and express how surprised they were to see us. They had never seen a foreign person on their shopping street before.
Back at Sanjay's house many teachers from school came round to play bingo and musical chairs which was great fun. The teachers had bought some gifts for us – lovely traditional items we will show you back at school. We ate street food brought in from the town which was scrummy. We also had fresh white bread that the children enjoyed with jam – a nice change from spicy food!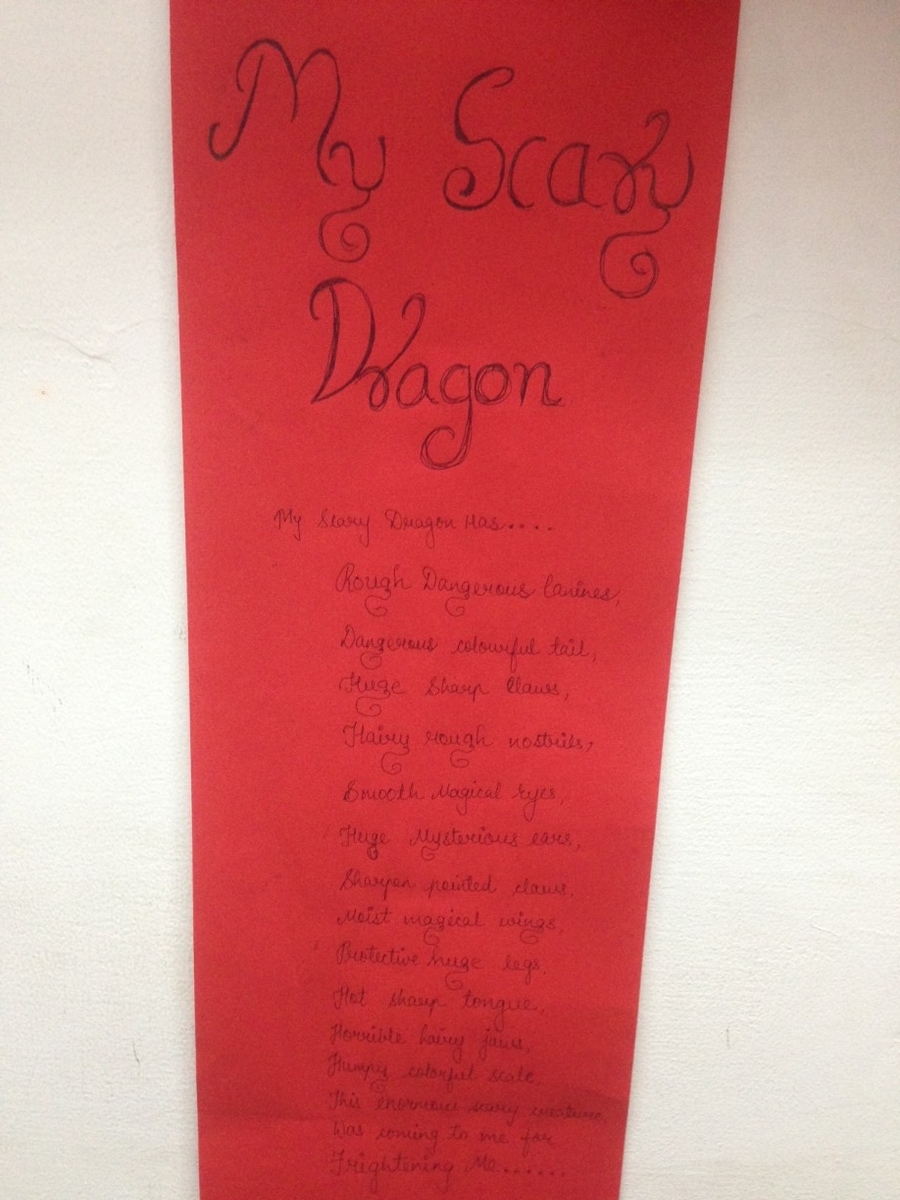 Wednesday - Day 6
It was awards assembly this morning. The children were recognised and celebrated for doing well in the tests. Also, the children who have responsibilities were thanked and received medals. They have ROBINS just like we do. Some children demonstrated an extraordinary psychic talent - they were blindfolded and given a variety of challenges to solve blindfolded. For example Miss Prior set the time on a watch and the child could tell the time by just feeling it. He was able to identify pictures, letters, objects, numbers and colours when blindfolded - just by touch. This description does not reflect how amazing it was! A little girl, aged about 6, did a skilful and beautiful traditional Rajastani dance.
In today's lessons we did some extra things – some music, more singing, craft workshop and PE (year 4 began to prepare their dragon dance for the Chinese New Year assembly on Thursday). We used year 2's fact file lucky red envelopes with year 7. They got one to keep from year 2 and then they made their own factfile about themselves that they put in a lucky envelope with a sweetie popped in for a treat.
Years 8 and 9 enjoyed looking at our year 5 Dragon book – they loved the drawings. They used the pictures to inspire their own writing – we have taken a picture of one for you.
The children demonstrated some traditional craft work for us by all ages of children in school. The little ones were doing pointillism and making pictures with LIVE matches. We told them we didn't do that in England!! Years 2 and 3 were making photo frames using lollypop sticks and headbands by wrapping all manner of coloured material around plastic formers. Years 4 and 5 made traditional bangles and necklaces ready for the Gurbur festivities tonight. Other activities mixed between years 6, 7 and 8 were; silk flower making, book marks depicting the various national festivals and purse making.
Today was the latest in the school's series of colour days. Most of the staff were adorned in all things pink – quite the spectacle. This is a monthly event at Bachpan in order to reinforce recognition and identification of colour with the smaller children in the school.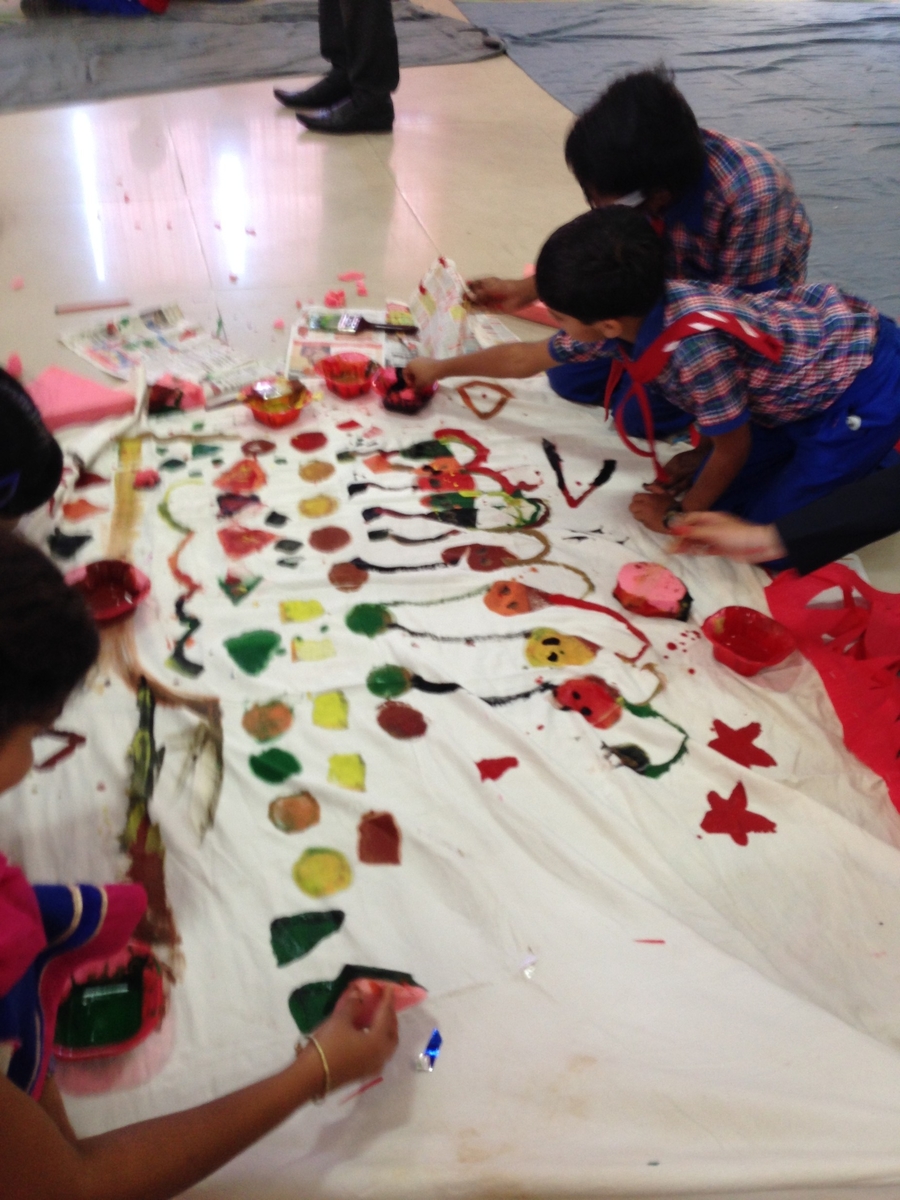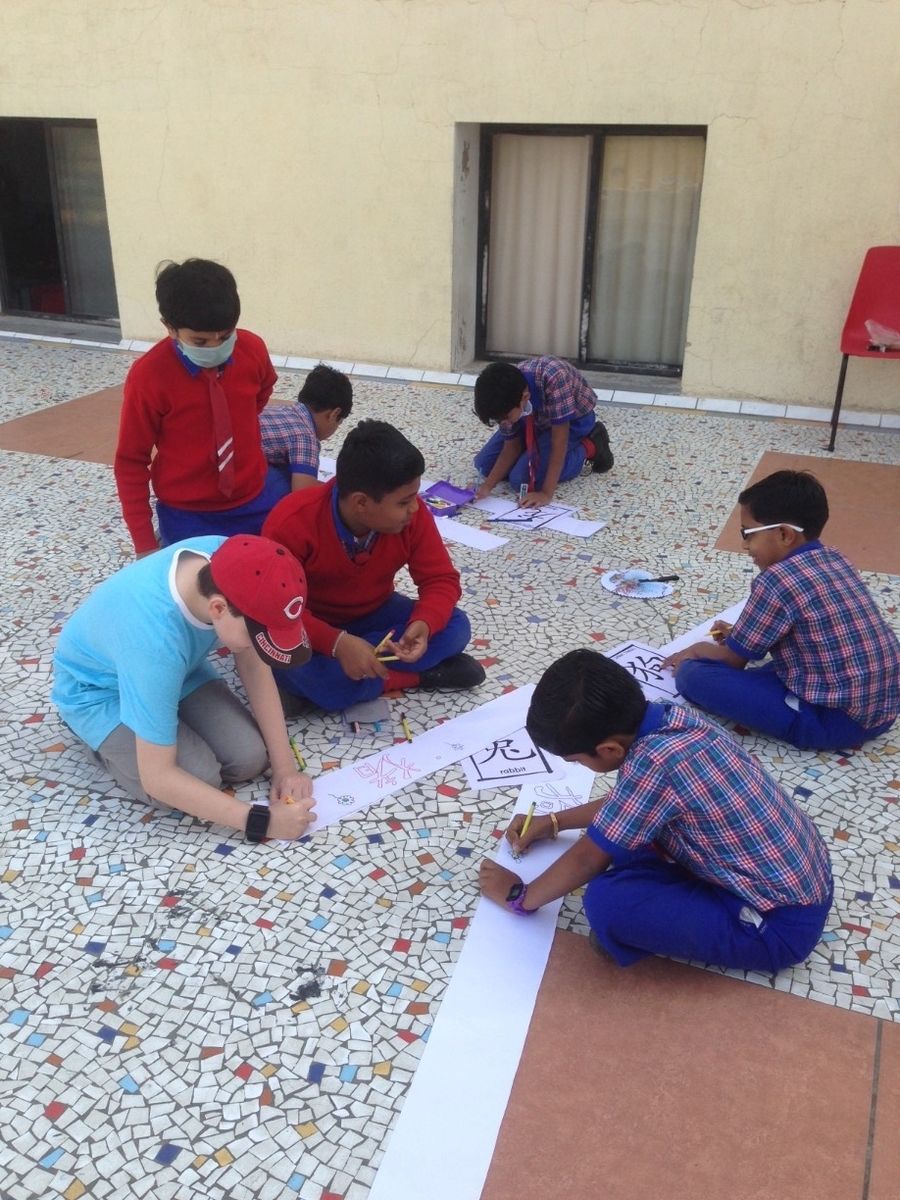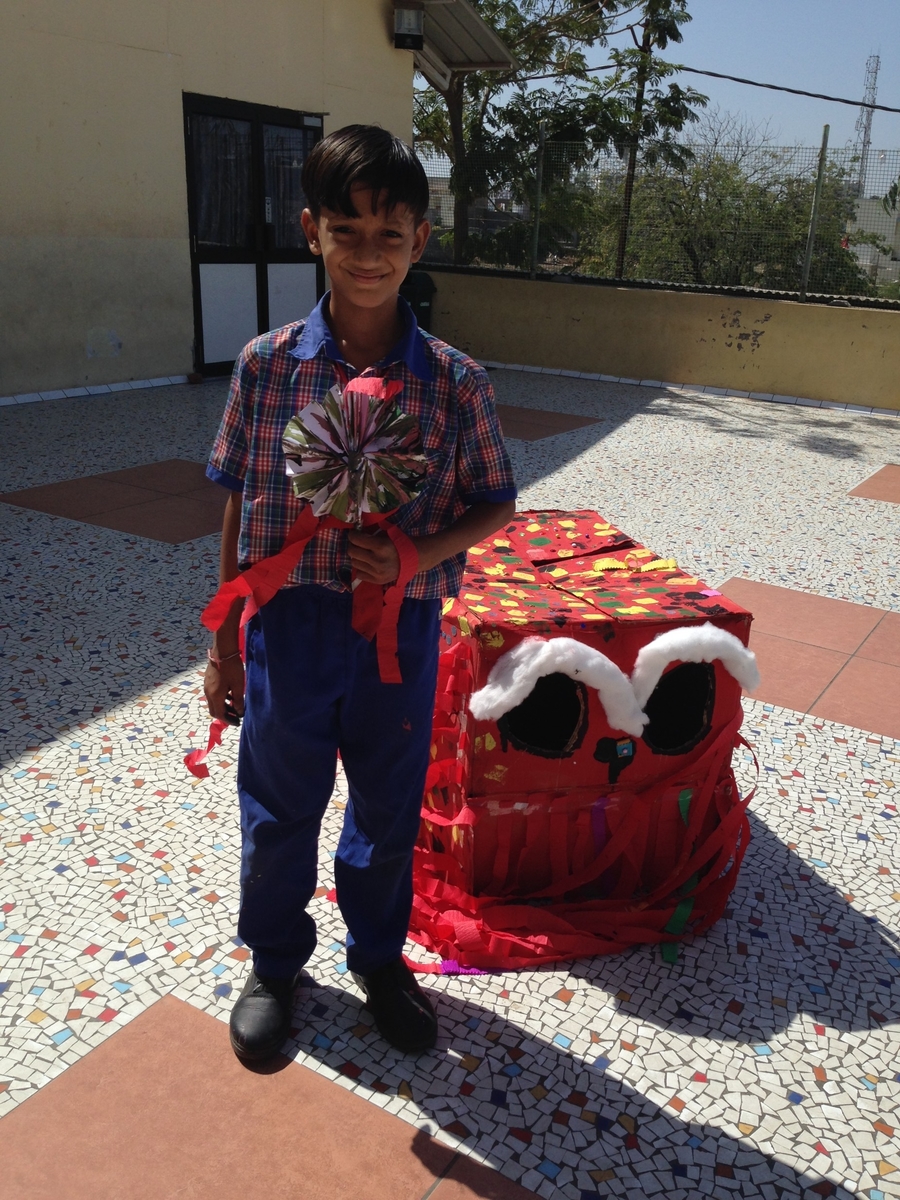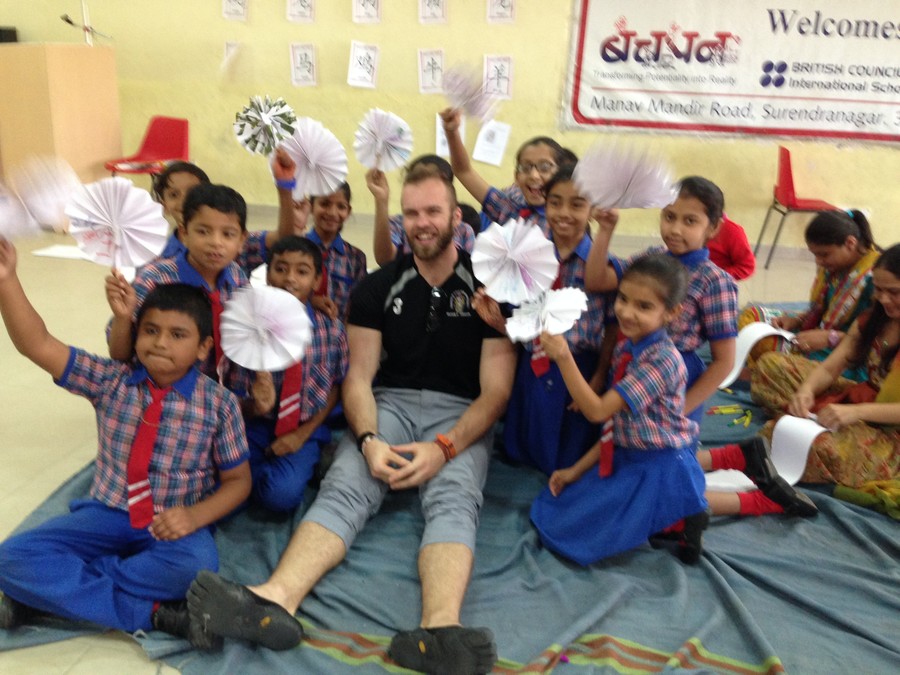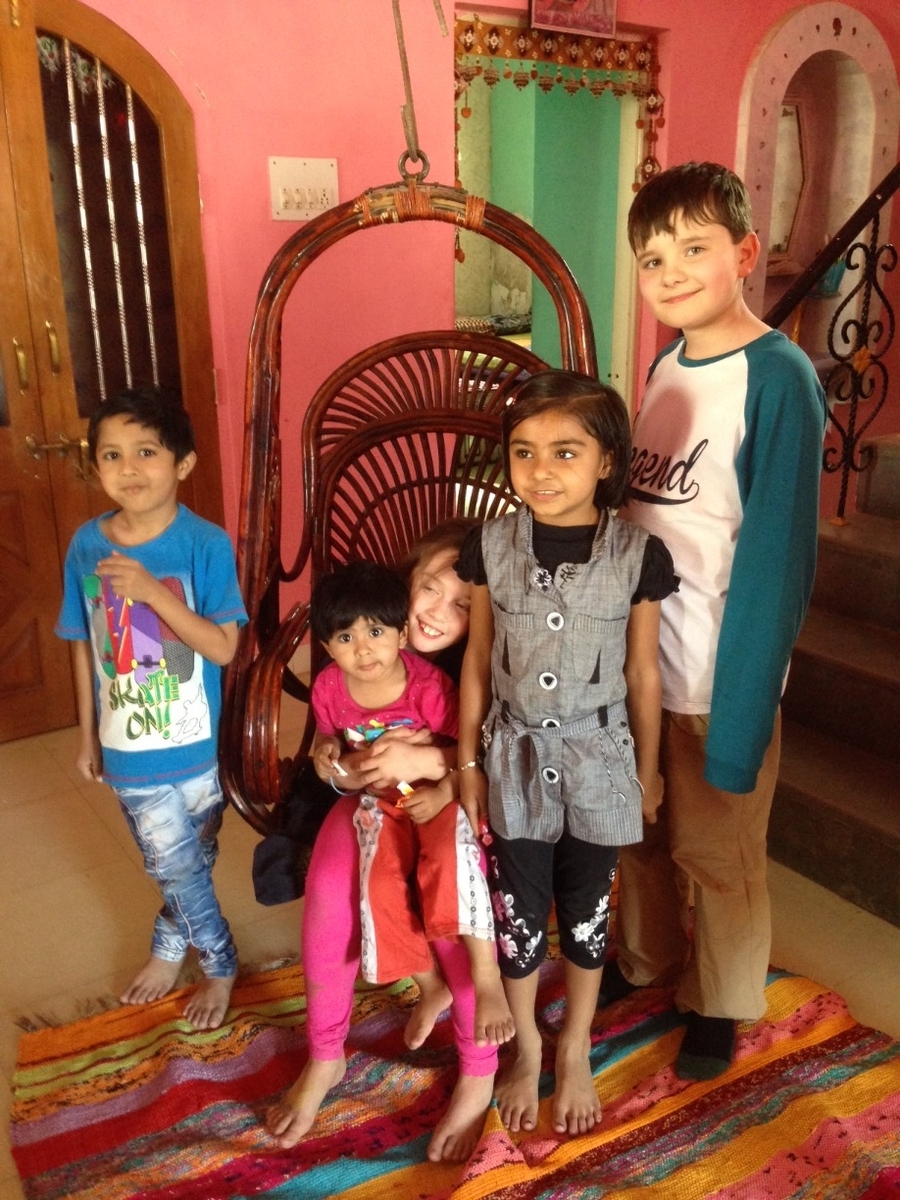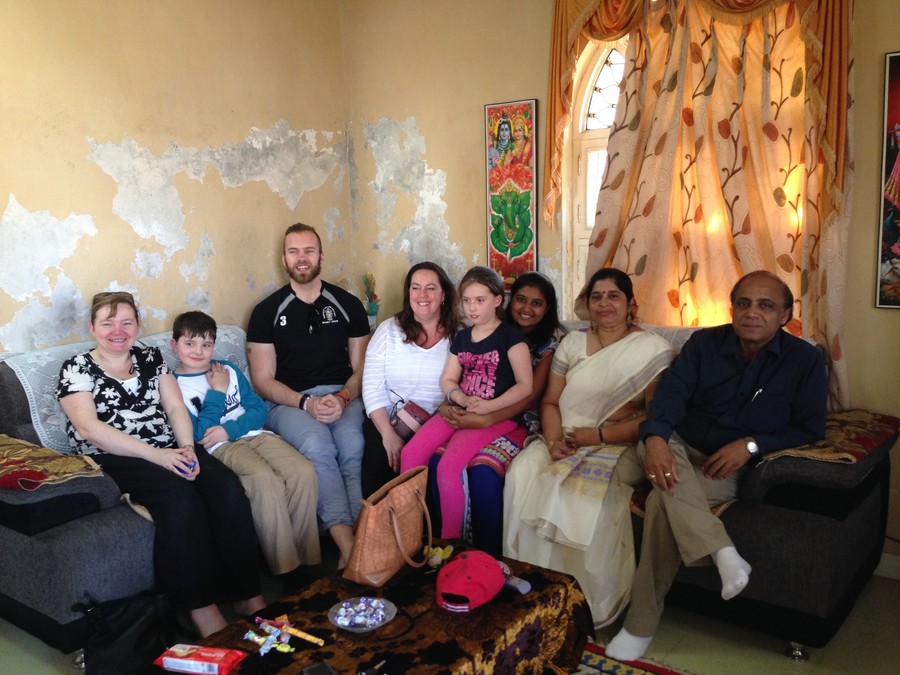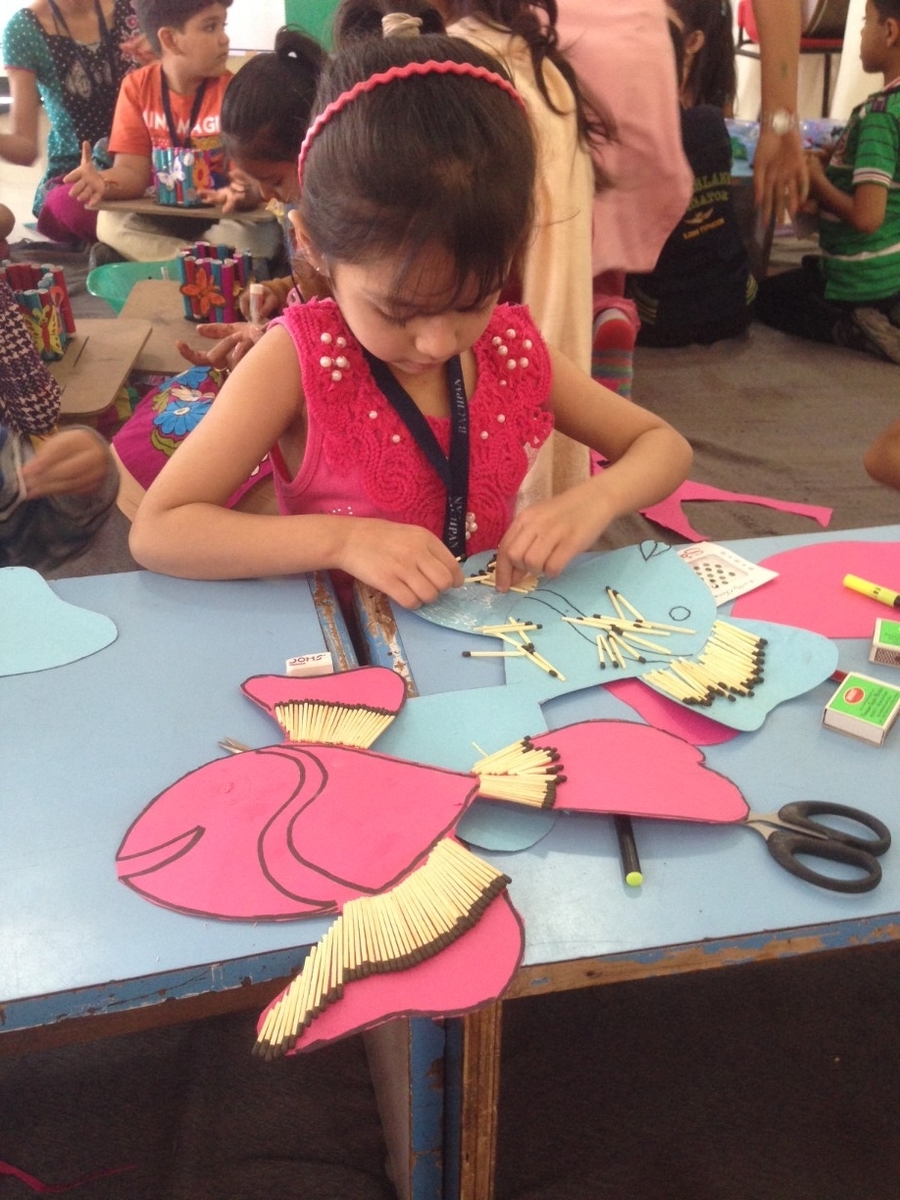 Day 8 - Friday (Our last day)
On arriving at school today we were treated to an open air sports display on the balcony. We saw amazing gymnastics, balances (all without safety mats!) and a very strenuous warm up. The children even did a show for us using the large parachute which we had given them previously. It was nice to see it being used so skilfully. We then went downstairs on to the sports pitch and watched a game of Coco. This version was sat down and looked very complicated!
Next we were all treated to an auto-rickshaw ride around the village. Mr Cheeseman was clearly too big to fit inside the rickshaw and had to stand up outside it, which generated quite a few odd stares. He looked like a scene from Gulliver's Travels!
Next it was time for our farewell assembly. Everyone was assembled in the hall and both the very young children as well as the older children put on a wonderful display of dancing for us.We were then invited up to the front to say a few words. We thanked everyone for making us so welcome and going out of their way to make us feel happy and relaxed all week. Elyot gave a very confident speech in front of the whole assembly, explaining what he had enjoyed most, the friends he had made and the memories that he would take back to England with him.
Before we left, Mrs Walsh & Miss Prior visited the Kindergarten and Year 1 classes to do more rhyme activities, as well as talk to the Early Years teachers about our teaching methods with our youngest learners. The teachers were very keen to hear how we teach everything from addition, counting backwards, story writing to remembering long spellings! We shared lots of our ideas, which we think they found helpful.
Sadly it was now time to leave Bachpan. Elyot was desperate to ride on Meena ma'am's moped, so she let him ride home with her. Once home, we had a little time for last minute packing before the long journey back to Ahmedabad from Surendagar. Once our cases were loaded, we headed back.
Once at Ahmedabad we had a few hours to relax at the apartment before heading off to the airport. Meena ma'am made us a delicious chinese meal for our last night.Everyone played sports outside to try and catch the last of the lovely indian sunshine. We then all retired to bed for an hour. At midnight we headed to the airport by car where we said our sad farewells to Sanjay and Meena. Check-in wasn't too bad and we didn't have too long to wait before we could board our 4:10am flight.
The good old British weather greeted us once back in the UK! Yvie and Elyot fell straight to sleep in the car. However, it was a quick ride back to Miss Prior's house before we all went home to see our families again.
We thoroughly enjoyed our time in India and hope you enjoyed reading about it too!