Bachpan
INDIA VISIT FEBRUARY 2016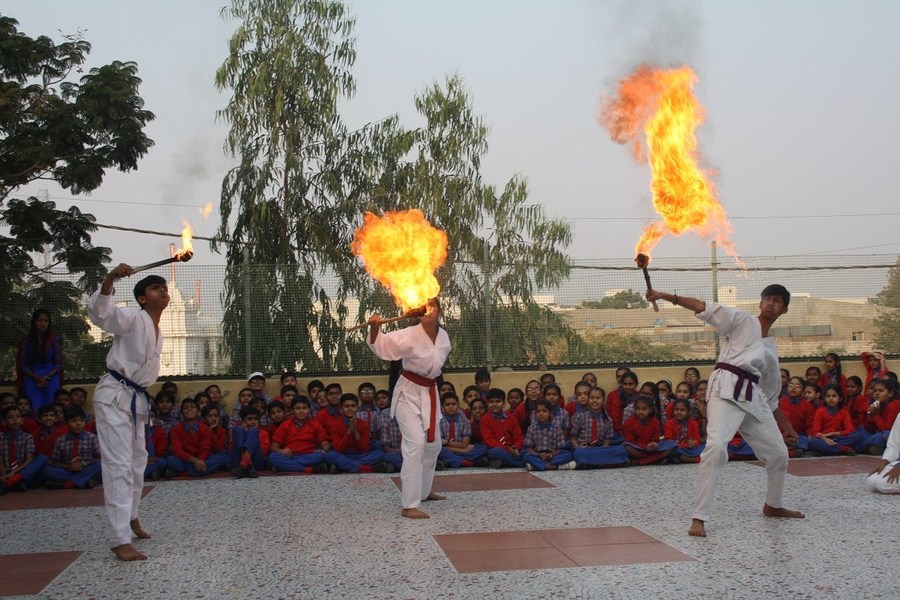 Thursday 18th February
After hauling ourselves out of bed, the day got off to an exciting start. Once we had arrived at school we sat and waited very impatiently for the brilliant sports assembly. The magnificent assembly showed an array of talents and well practiced skills from the children - we were flabbergasted. It included yoga, acrobatic,drills and fire-breathing!
After the talented students had performed they were awarded by Mr Manton, Mrs Smith and Miss Waite. Students receive medals for outstanding skills, hard work and effort they have displayed throughout the performance and in their school term too. The lucky Mrs Smith had no lesson so she relaxed meanwhile Miss Waite and Mr Manton worked hard stretching the children's learning skills.
One of the sad moments of this amazing trip arose today, the "Come Back Soon" assembly took place giving us a warm send off - showing us the amount of care and love they have for us in this big family. Once again, the final assembly displayed more talent including singing, dancing and even some nursery rhymes from the tiny ones. Georgia Manton performed a dance that with the help of Lottie Smith she had made up and taught.The dance was liked because it is not like the usual style of dance so the children/teachers were intrigued and very pleased. We all made a speech each even the little Owen Smith and thanked the Bachpan side of the family. After the thank you's we said goodbye and returned to the office. However the children had different plans outside there stood hundreds of them with a range of gifts , everyone was overwhelmed.
by Lottie Smith (well done Lottie!)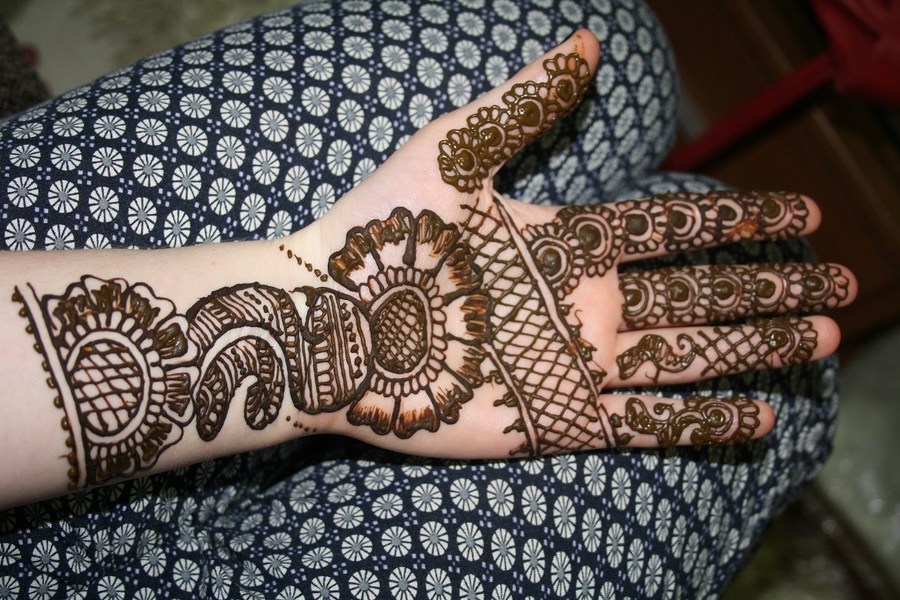 Georgia's amazing Mehendi patterns completed this afternoon! These are really popular in India especially at weddings.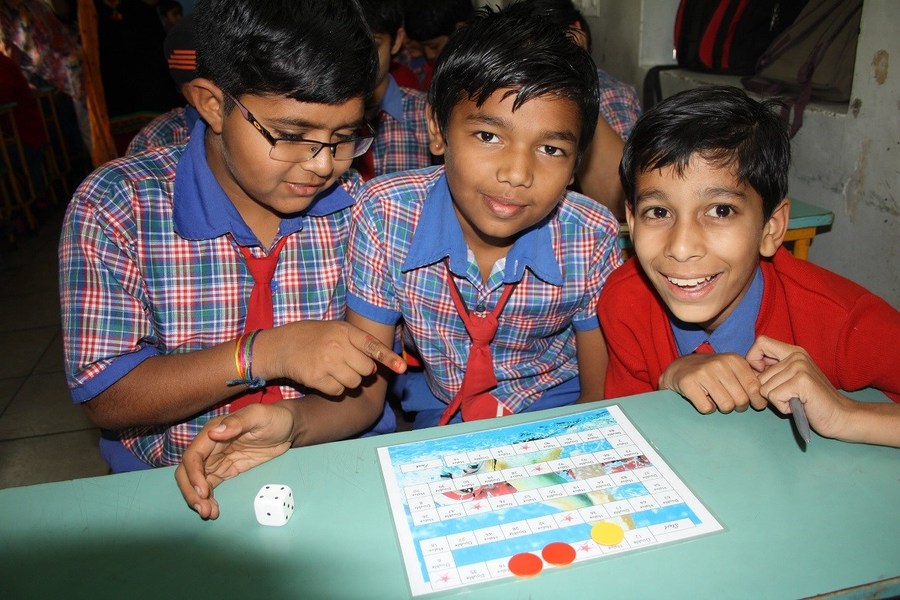 Children enjoying Maths Olympics in class - and Georgia Manton enjoying making rangoli patterns on the terrace.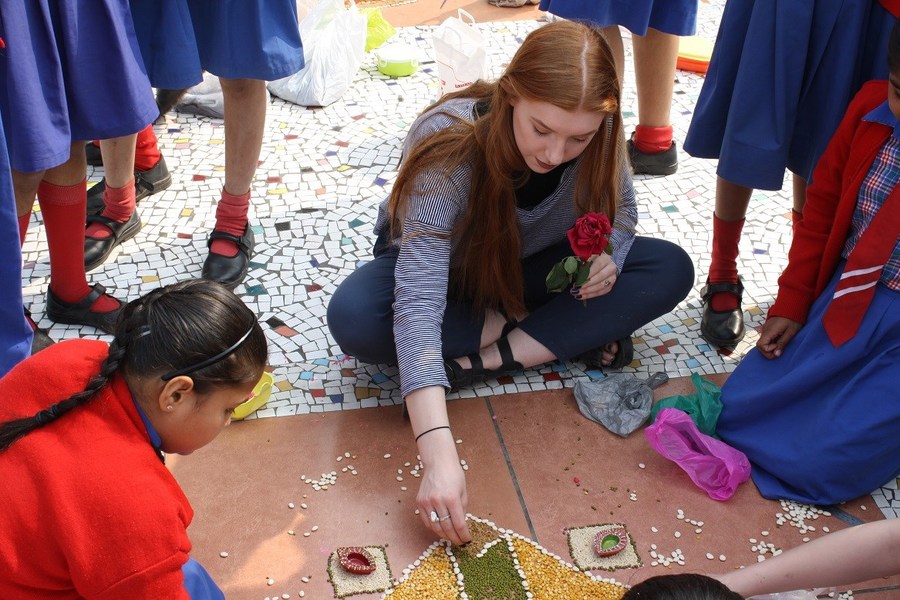 Tuesday 16th February
Miss Waite, Mrs Smith, Mr Manton and party woke to the combined sound of the local traffic, Muslim call to prayer (there is a local mosque, even though India is a predominantly Hindu country) and local fighting dogs!
Today was a terrific chance to teach in Bachpan, where we began our first lessons at 7:30am to some excited Bachpan students.
Mrs Smith taught year 6 and 7 Maths Olympics in some of the Bachpan classrooms, getting used to the arrangement of tables in rows and the occasional off-site noise of a mooing cow, to share the mental maths challenges in a completely new setting!
Mr Manton taught years 5 and 8 in the hall, asking them to think more about the concepts of Climate Change and how we work together within the United Nations to solve the 17 Global Goals. Year 8 were particular quick on their suggestions of what we can do to reduce our own effect on climate change.
However, Miss Waite beat the Southroyd record teaching over 250 children in one day (yes, that includes 150 in year 3 alone!!!) So despite the heat and challenges of new spaces, the portrait collages will now be able to cover the whole school grounds!
Lottie (Smith) and Georgia (Manton) had their chance too! They were able to teach some western style dance to a range of children in Bachpan - who will be showing this in assembly at the end of week!
Owen (Smith) had the chance to show his sporting prowess in games of cricket, langaddi and kho-kho - as well as sharing the game of "Duck, Duck, Goose" with our Indian friends.
After dark the gang went to Dance Fusion! This was a mixture of modern day Indian music and also a chance for the group to get to grips with dancing the traditional Garba, the Gujarati dance. A fine piece of commitment all round and we danced the evening away - despite the heat!! The Garba involves dancing around in a rhythmic circle, with dancers in interlocking circles and many dancers in traditional Gujarati costume. Although its best we don't share any particular photos of the details, the evening was a lot of fun and the group caused plenty of amusement all round.....
Rather hot and exhausted we travelled across town to the Signature Restaurant - a new restaurant in town - to meet the two boys from Year 6 coming to England in May and their lovely families.
What a day! Bed called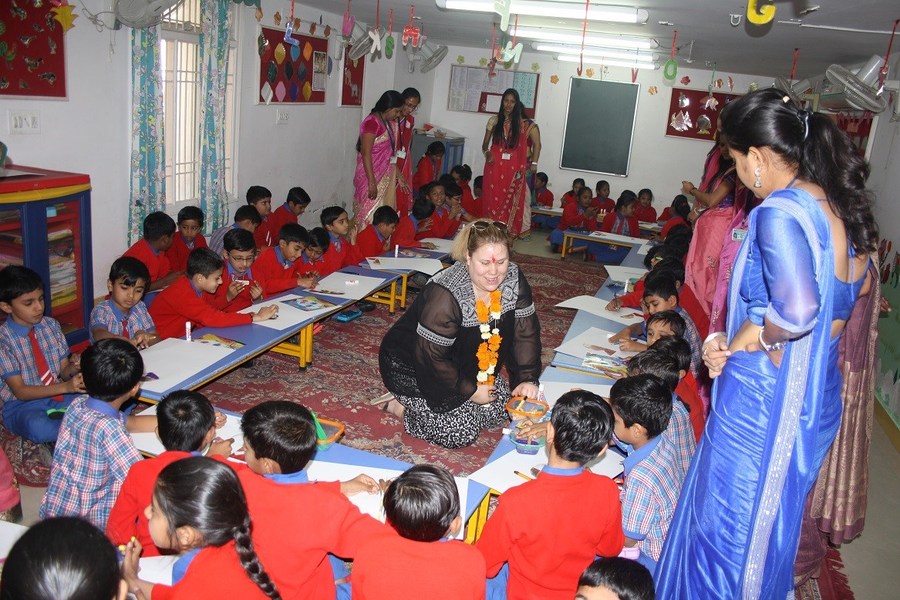 Miss Waite teaches Y4 to make some Picasso style art pictures, based on Southroyd faces and Lottie (Mrs Smith's daughter) is welcomed at Bachpan.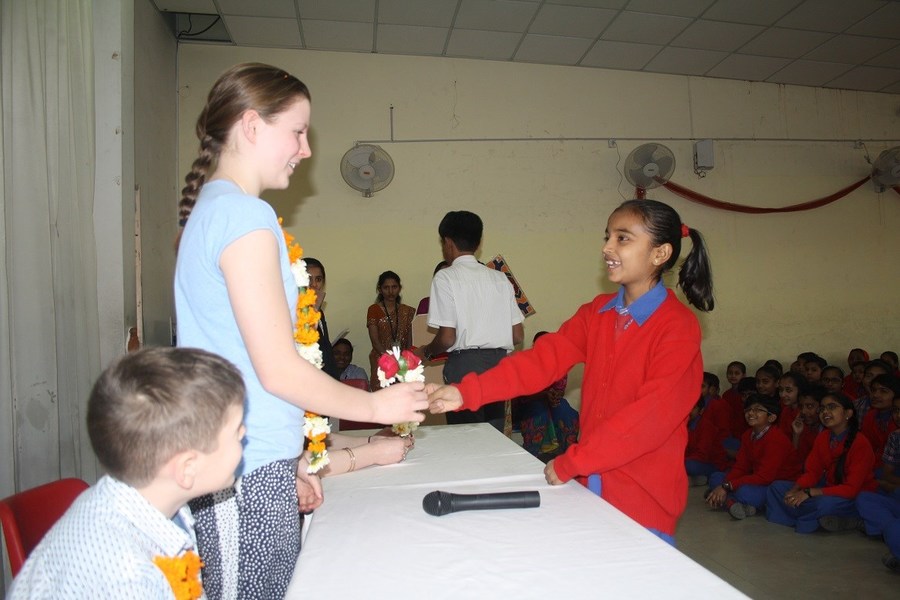 Sunday 14th February
A Valentine's Day with a difference!
What a road trip! The 2 and a half hour drive to Surendranagar is a complete sensory overload - we saw cows, mopeds (with upto 4 passengers) rickshaws, camels, lorries, fields of cricket, irrigation schemes, roadside cafes, tractors and so much more and we've made it to the very welcoming home in Surendranagar.
We enjoyed a tasty dish of local produce lunch - with daal and pooris - and we're feeling that the record for Southroyd poori eating may be under threat!
In Owen's words, "my eyebrows are sweating" - and he's right, its not rained here since September/October and its a very dry 32c! We are currently settling in on this warm Sunday afternoon, ready to meet the children of Bachpan in the morning!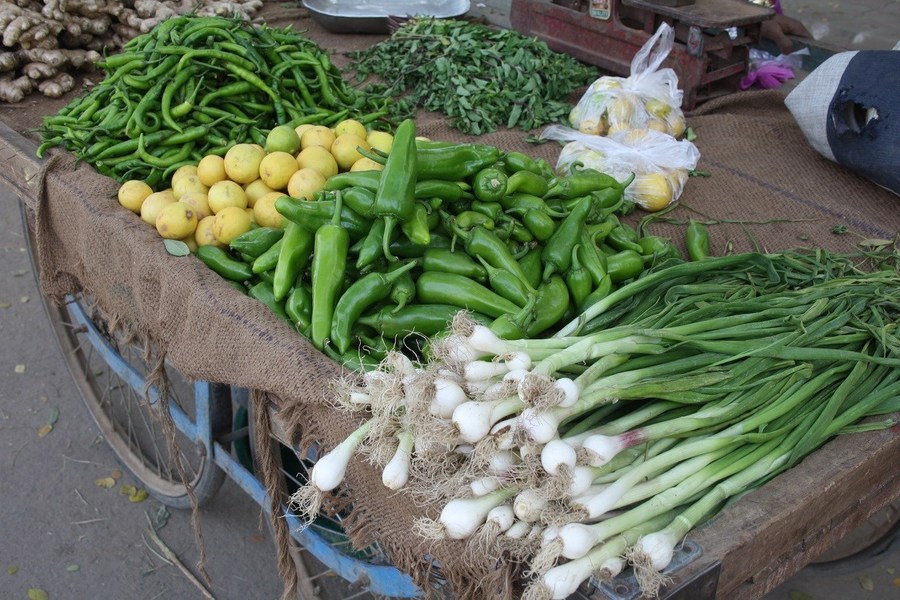 Friday February 11th
Miss Waite, Mrs Smith, Mr Manton and the three travelling companions - Georgia, Owen and Lottie - left Leeds after 3am on Friday morning, ready to catch the morning flight from Manchester to Dubai. The journey was smooth and after a large amount of online video and trivia challenges, we made the link to the Dubai stop. After a chance to stretch our legs, we were off again for the Ahmedabad flight which took us through the night to arrive at 3am for our first steps in India!
Bleary eyed and a little weary from travel, we were met by the smiling faces of Sanjay and Meena who had come in the small hours to meet us at the airport. We drove back to Sanjay and Meena's weekend apartment in Ahmedabad. The overall journey had taken 20 hours from door to door.
On Friday 12th February, Miss Waite, Mrs Smith and Mr Manton will be travelling to Bachpan school to take part in our eleventh visit! Mrs Smith's son and daughter and Mr Manton's daughter will also be welcomed to Bachpan.
Wednesday 17th February
We are being made to feel so welcome at Bachpan and each day the children are giving us cards, flowers and chocolates! We were back in class again today, with Miss Waite continuing to develop her portrait art work with an equally as large group of children from Standard 3 and up. The children use fingers, cloths and string to apply their paint and produced some colourful versions of our faces!
Mrs Smith was challenged by the class sizes and heat to work with Year 7 and 8, who had developed their English skills nicely (its easy to forget English is their second language - the language of Bachpan school) The building site and nearby cow accompanied Mrs Smith with her directions and the slanting tables were a challenge for dice throwing in Maths Olympics!
Mr Manton met some more cohorts who looked closely at diagrams of Climate Change and used the "Photocopier Activity" to look closely and replicate information about global warming. I think teaching a class size of 66 children has to be a new experience for most teachers!!
The teaching was followed by a chance to marvel at the art and craft skills in Bachpan - we were able to join in making Rangoli patterns in the playground and join in with the local art skills demonstrations in the hall. A chance for Georgia and Lottie to get their mehendi patterns done!
After school it was the annual rematch of India v England road cricket, with Owen and Mr Manton taking on the street population of Sanjay's home. Despite the occasional stoppage due to scooters, dog fights and slow walking cows, Owen Smith and Mr Manton gave a decent account of English cricket before heat - and tea - stopped play. Cricket is the most popular game in the whole of India and is visible on any square of land imaginable!
Meanwhile the ladies in the party were enjoying having some Mehendi patterns applied on their wrists and lower arms. These should still be visible next week when the teachers come back to school!
After cricket and a cool down, we were guests at Chaitali's home followed kindly by a chance to visit another child's house. A delicious meal, amazing hospitality and two portions of ice cream and we were again ready for bed! What a day!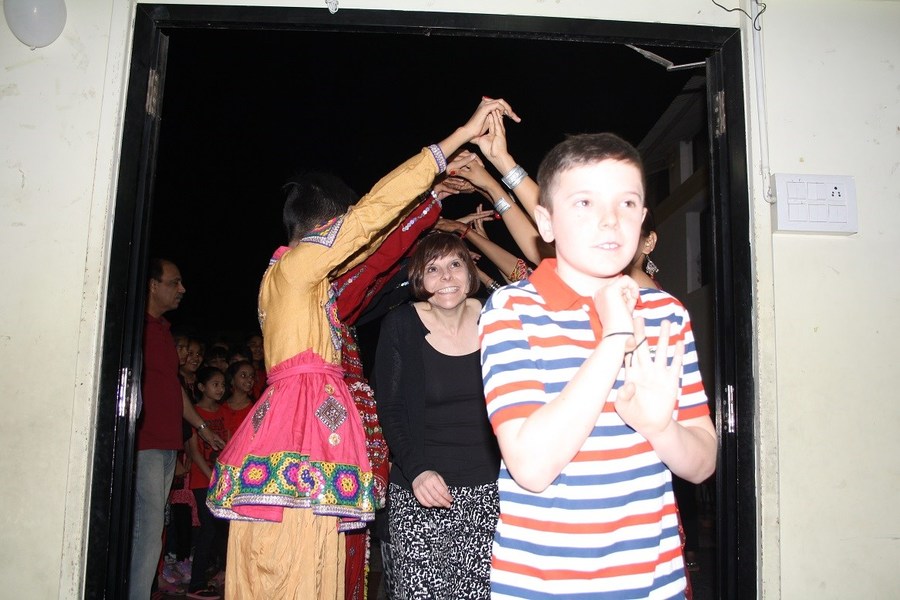 A traditional welcome to the Garba dance!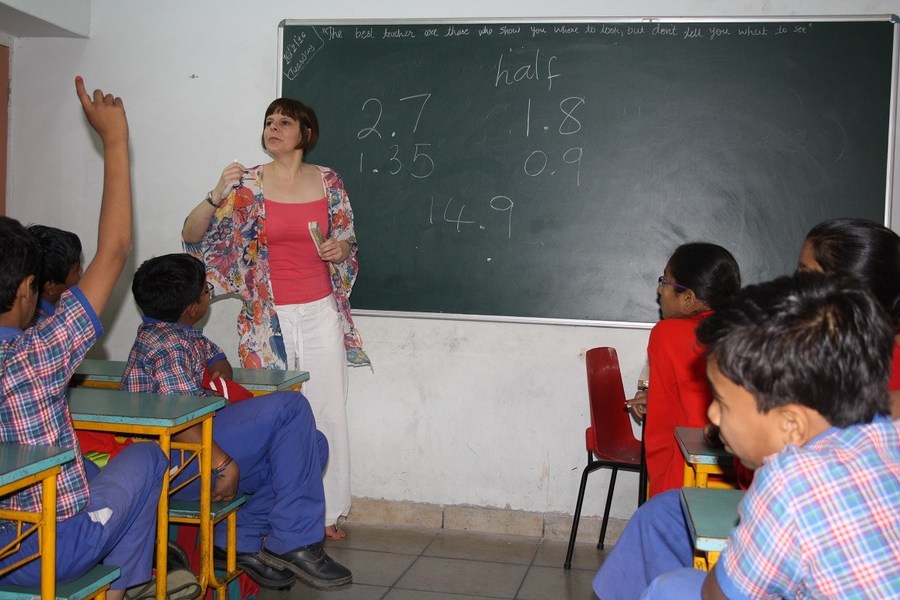 Mrs Smith teaches class 7 some maths Olympics doubling and halving games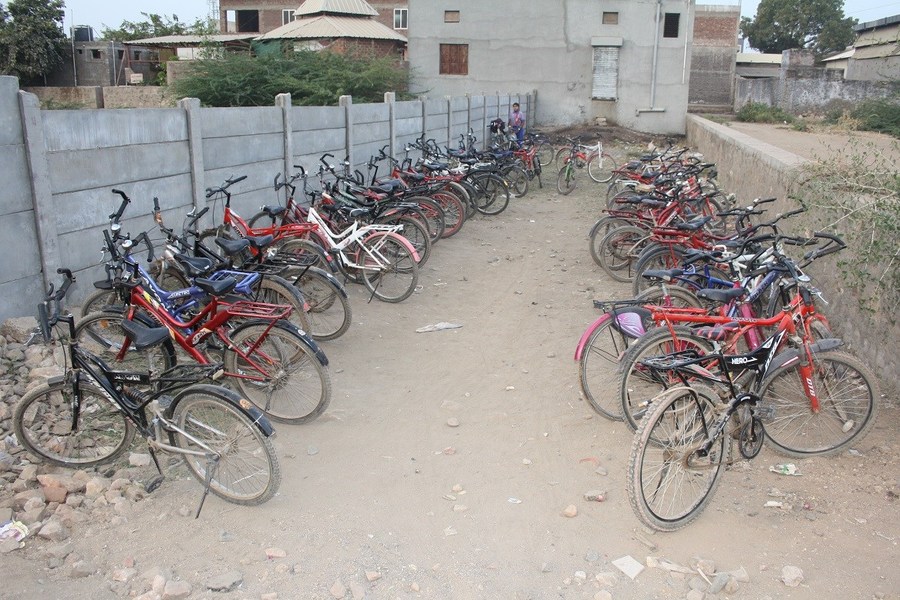 Monday 15th February
What a welcome! There are no real words to explain how we felt when we arrived at Bachpan. The whole school were ready to welcome us on the balconies and grounds of the school - looking fantastic in their traditional dress, children welcomed us with tikka and a garland of flowers, as well as dropping rose petals on us from the balconies! How about that!?
This was followed by a fabulous school assembly, featuring welcome speeches, hymns, prayers, dance and music and displaying an array of talent - but in particular the warmth with which we were welcomed into the school. Welcome speeches from parents, students and staff all repeated how important Southroyd is to them!
Soon we had our first chances to teach. Mrs Smith shared some maths Olympics with year 5, looking at the Southroyd style of boosting our mental maths skills using paired games. Mr Manton was getting the children to explore climate change, ahead of Southroyd's climate week in a couple of weeks - and Miss Waite was working with year 4 children to merge photos of are Southroyd children with a Picasso inspired image of the other half.
A great experience for all of us to teach in a different country with class sizes of 50!
After our first teaching slots we enjoyed a trip out to a local farm to see a selection of lots of local vegetables - despite a swarm of midges we enjoyed a look around the clever irrigation systems which enabled plants to grow despite the lack of rain Our visit was completed by a chance to eat some of the nicest vegetable samosas imaginable!
Despite car trouble the supportive Bachpan family rallied to rescue us from the farm and take us on to the Shiv International - a location for the now renowned Shiv sizzler, as well as a chance to enjoy the company of more staff members from school.
Tomorrow we have a full program of teaching but also the Disco Inferno to plan for! We're hearing there is snow in Leeds which is so hard to imagine when its 32c here! Sorry wasn't meaning to rub that in!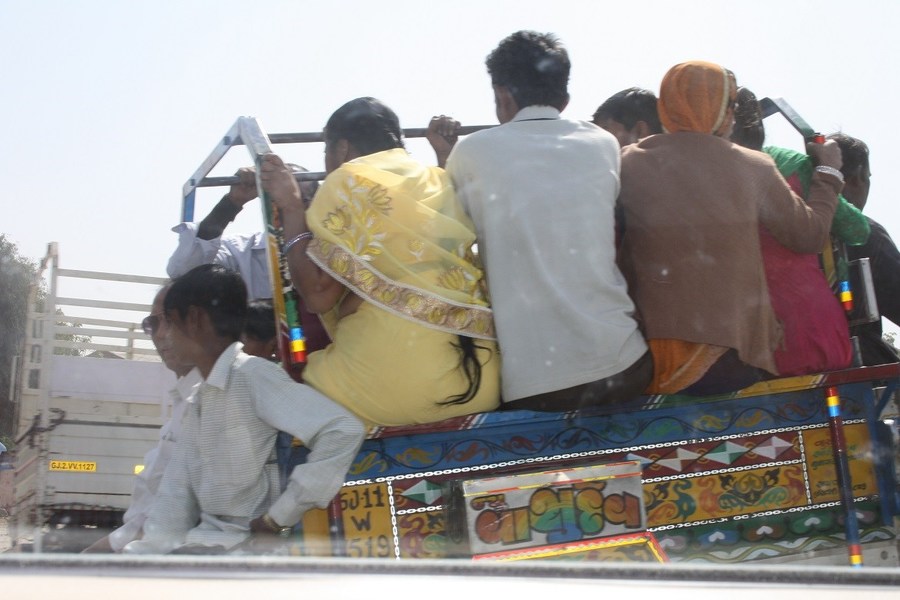 Saturday February 13th
After a brief sleep we woke in our lovely apartment, where Owen summed up our overall feeling -"Mum, is it today, or yesterday?" It was actually about lunch time but the rest was really needed.
Sanjay and Meena took us to the local café where we enjoyed our first proper Indian vegetable daal - everything in the dish we'd just seen outside on carts of produce that you could buy. How fresh was that? We relaxed a little before driving towards Gandhijar (the capital of Gujarat) for a quick visit to the Indroa Nature Park, where as well as wild monkies and peacocks we saw a lot of dinosaurs! (... they were models in case you weren't sure)
We followed by a first - a visit to a Watershow! At the amazing Akshardham.Here with the backdrop of a huge Hindu temple and centre for Spritual Education, there is a fantastic laser projection of stories from India, projected onto a wall of water which jets out of the ground! Very impressive!
Soon tiredness overcame us once more and our first real day in India was over - what an experience for all!