2018-19 Council
A new school council have been elected, following campaigns during September using posters, hustings and more. The new school council meet for the first time in October to discuss meeting protocols and help drive school direction. Have a look at their minutes to find out more.
Over 110 children stood in the 2018 School Council elections, posting their thoughts in posters, hustings and more. The final selection of children chosen on voting day, October 5th 2018 were:
2S Lauren B, Henrikas M
2N Jessica M, Josh D
3H Jessica O, Max P
3T Amiee H, Charlie R
4S Scarlett P, Niko S
4B Lauren SJ, Jack VS
5P Holly D, David T
5N Ellie P, Dylan B
6D Jessica W, Bradley Y
6C Isla P, Jayden W
2017 Takeover Day
Well done School Council for reading through over 130 applications for Takeover Day tasks, to select 24 children to take this year's jobs.
On the 20-24th November, children took on a great variety of jobs in school. Well done to all!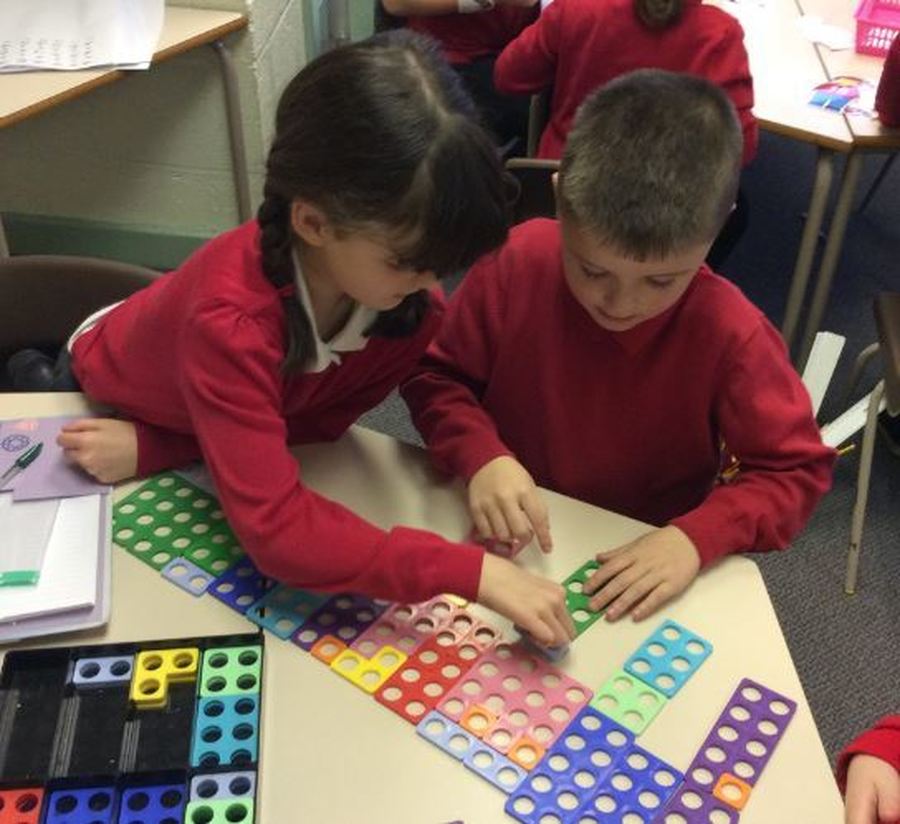 Indigo helps children in Y2 in their maths olympics.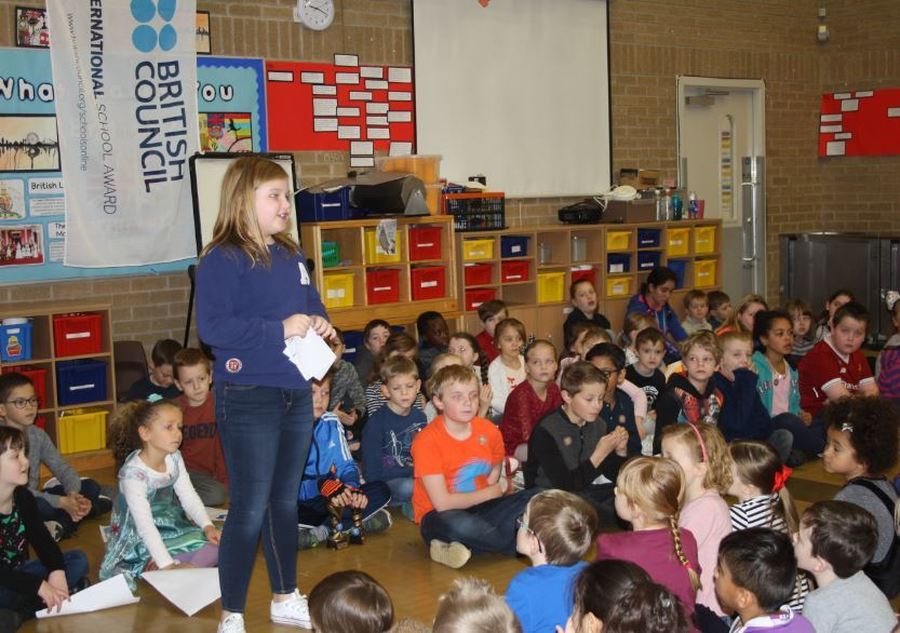 Grace leads the whole school Friday assembly in front of parents.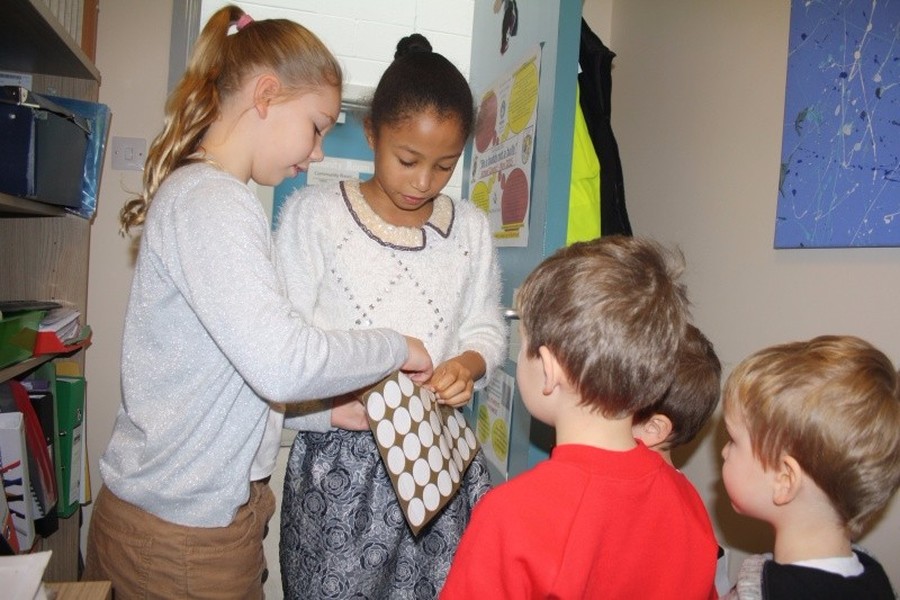 (2016) Ava and Eden were co-Headteachers for the day, working on the school newsletter, surveying some children's attitudes and also rewarding children here for their hard work.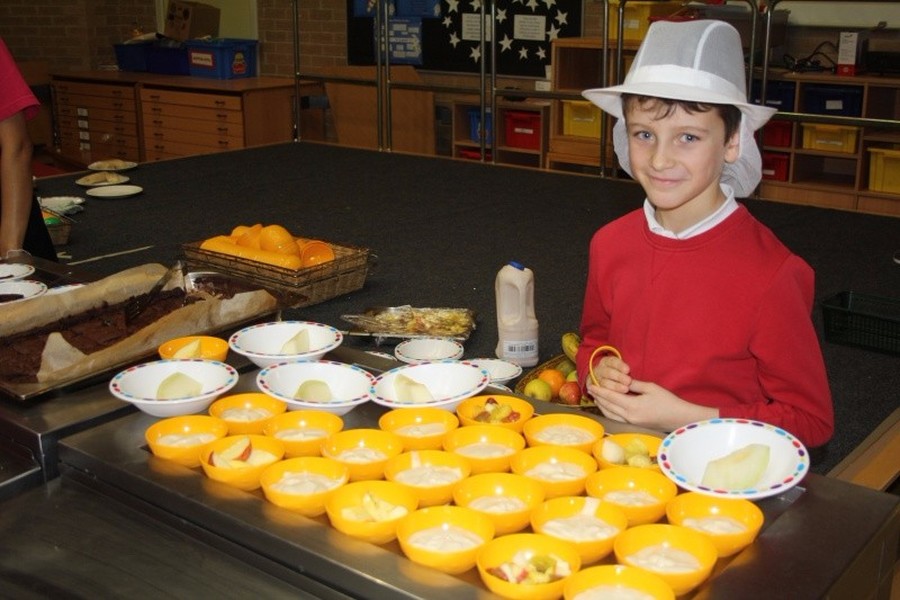 (2016) Daniel worked with the lunch team to serve salads to the KS1 children at lunch time.
Anti-Bullying Week
School Council met this week to update the school's anti-bullying policy and redesigned the poster as shown below. This included a lot of suggestions for adjusting both the presentation and wording of the document. The children also decided to simplify the wording for the KS1 version of posters.
Southroyd

Promise
School Council met in September to work together to define what the Southroyd Curriculum should look like from 2014. The Southroyd Promise answered the three questions:
What should Southroyd children expect from their learning?
What experiences are important to the Southroyd curriculum?
What trips or visits should be part of our curriculum?
The children came up with a list of features that they believed were important to the school curriculum. These views formed an important part of subsequent staff planning and governor meetings to ensure that the Southroyd Promise could be put into action.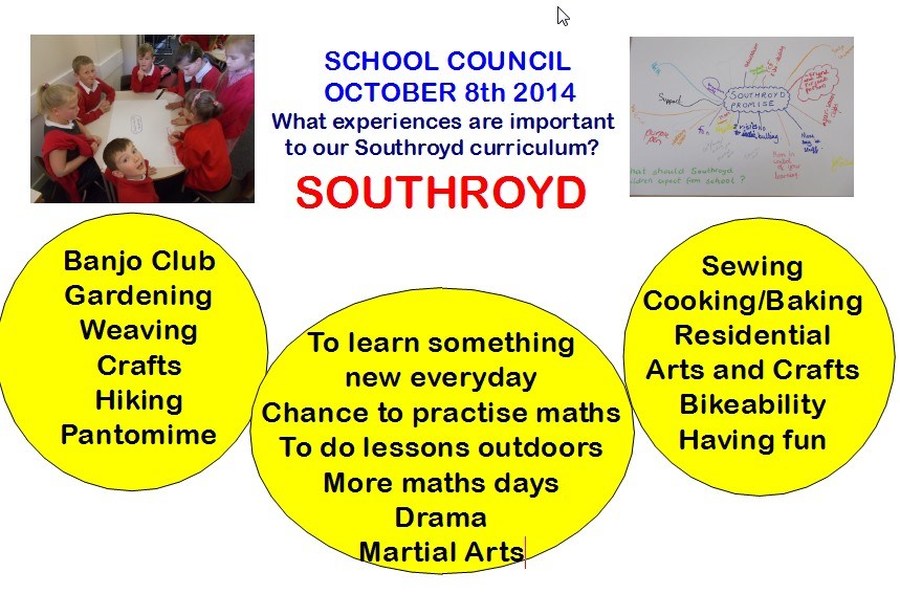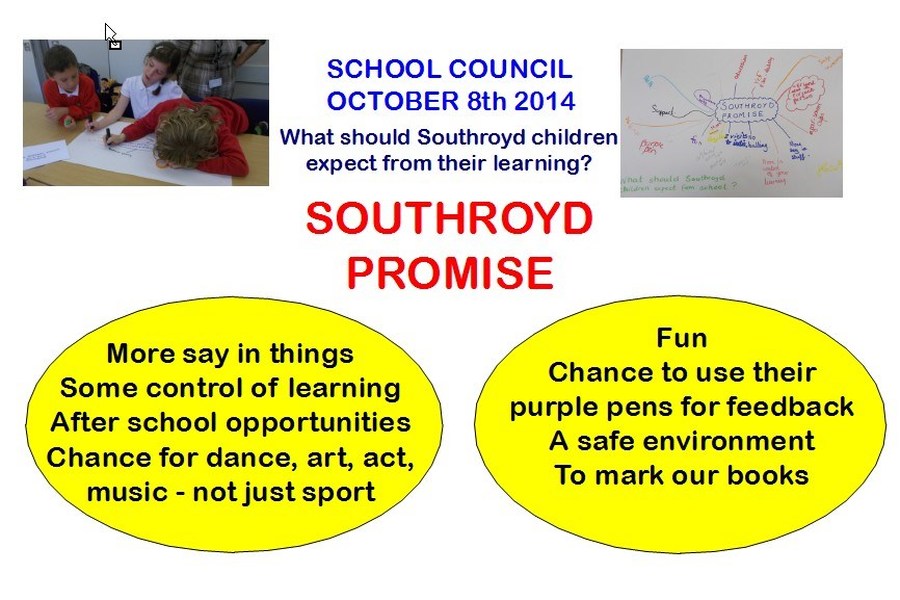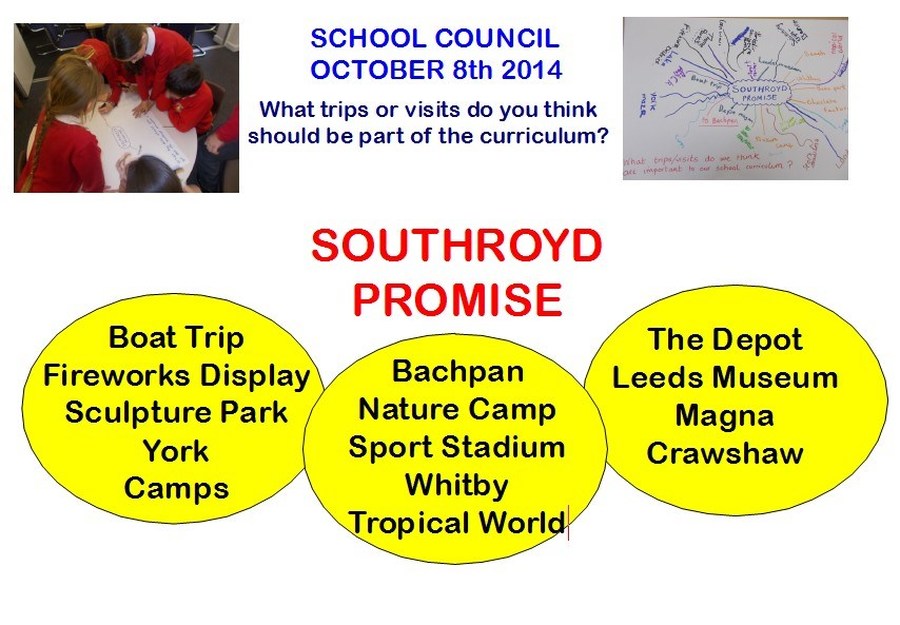 School Council Minutes 2018-19
School Council Minutes 2017-18
United Nations Global Goals
The school council worked with Chitra, Chetna and Chaitali to think about the United Nations Global Goals and more that we can do to help sustain our amazing planet. The councillors fed back to class their findings and discussions had with our Indian partners.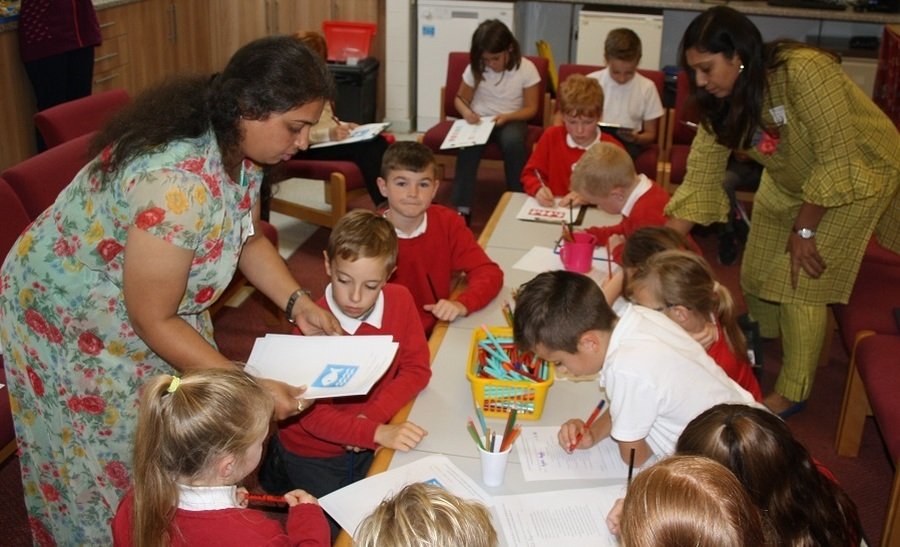 Can we increase the amount of home reading that we do?
School Council met this week to talk about Read to Succeed and made suggestions about how we could improve reading at Southroyd. As part of a Lent challenge, we set ourselves the target to improve our own reading. We talked about the benefits of reading and how we could improve reading in school and in the wider community. See the minutes from the meeting dated 16.3.17 and then again 9th November 2017.
What is Equality? How can we be heroes of social justice in Southroyd?
As part of our half term focus on social justice and equality, in January 2017, we looked as a school at heroes like Martin Luther KIng and Malala Yousufzai, and their stance for equality. We asked class councils to rethink about how they can be "heroes of social justice" within Southroyd.
School Council Support Children in Need 2015
School Council backed the local fund raising Learner Relay for this year's Children in Need. The children decorated colourful spots which were presented onto the learner cars who drove in convoy across the country this Children in Need. Here children are presenting the spots to Joan Kaye, driving instructor at Asda Owlcotes.
School Council - Hygiene and Attendance
In school council children discussed the importance of attendance and talked about how they can make sure they reduce the amount of days they missed by being really careful with hygiene. This followed school wide discussions following Global Handwashing Day. See November 6th 2015 minutes.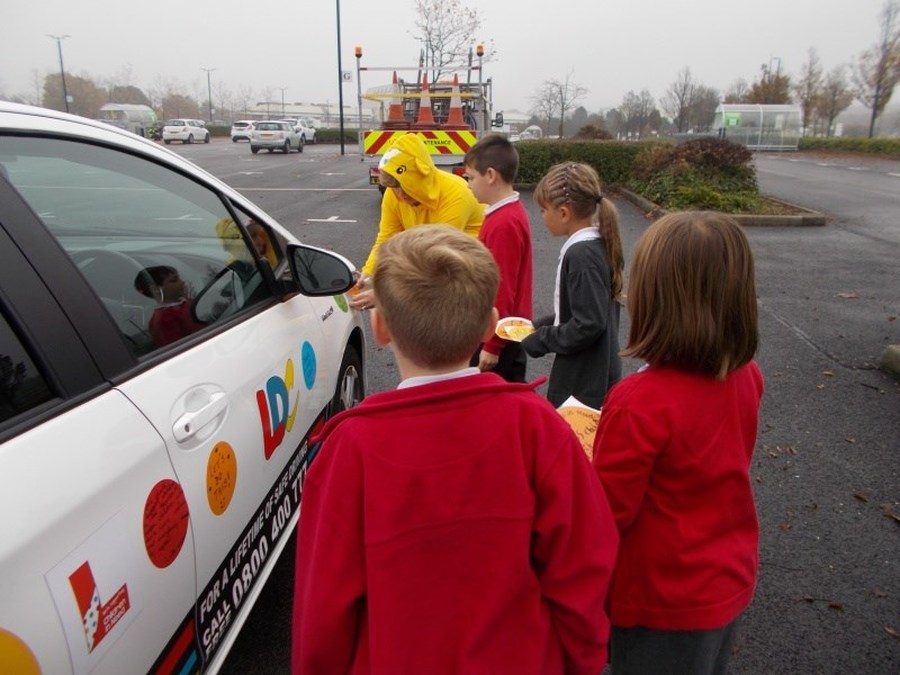 School Rules
The School Council met with Tony Aubrey of Leeds Rhinos to find out more about "a winning team". Together with their knowledge of growth mindsets, from assemblies they worked in classes to update our school rules.
School Council came up with the excellent mnemonic below.
Evi in Y5 came up with the idea: BE INSPIRED
I Independent N Nurturing S Supportive P Persevering I Inclusive R Resilient E Enthusiastic D Determined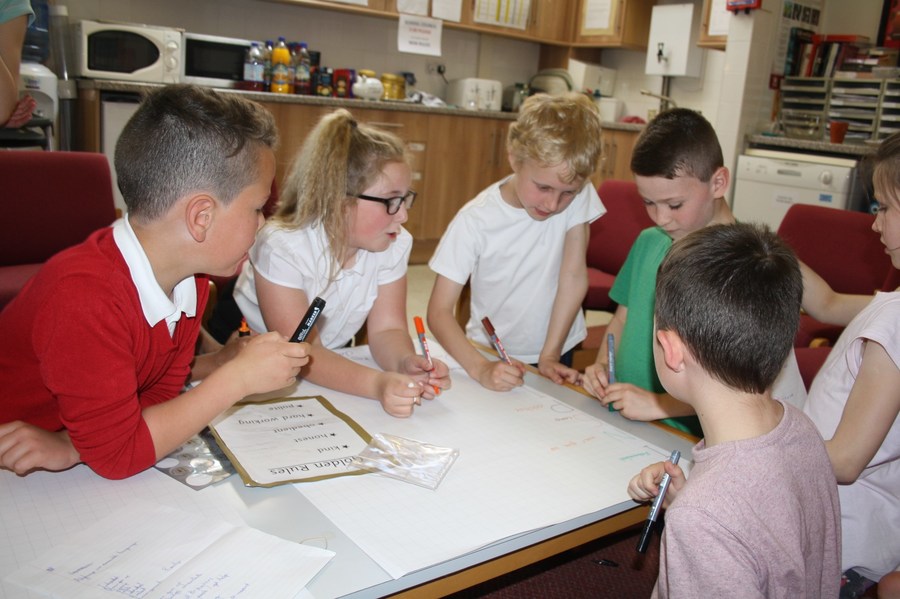 Stuart Andrew MP Visit to School Council
Stuart Andrew, the re-elected MP for Pudsey, came to meet with the outgoing school council to answer their questions on how Pudsey could be improved.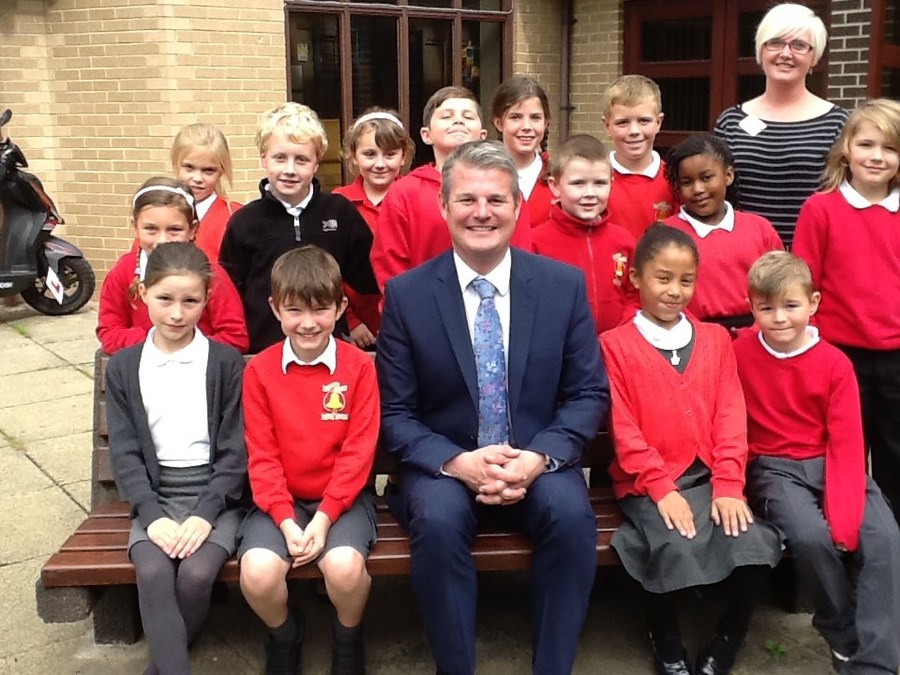 Last year's School Council had a chance to interview Stuart Andrew to find out more about working in Parliament and being our MP.
In the Autumn, School Council worked with class council to update the School's Safe Internet Use policy. Each class has worked through the principles for keeping safe on the internet both at school and at home. eSafety is key to all elements of the Computing curriculum, but also a focus for February in International Safe Internet Day.
This year, a school council sub-committee, has re-developed a series of questions for prospective candidates joining the teaching group at school. A panel of school council have now taken part in an increasing number of interviews, written and refined the series of questions asked.
School Council Minutes for 2014-17